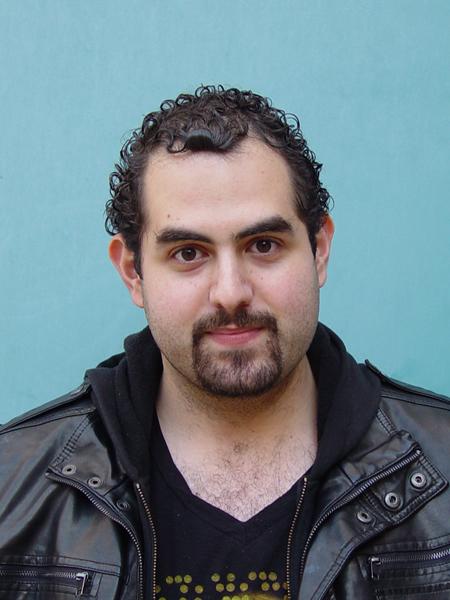 Graig Agop has been trying to find the doors to exit the Glendale Community
College campus since spring 2005. Rumor has it that he is getting close. This self-
proclaimed "Entertainment Terrorist" is a Communications major with a plan. Graig's
contributions to El Vaquero and Insider Magazine have earned him eleven awards for
his work in Journalism at The Journalism Association of Community Colleges Southern California and state conferences.
Graig is aspiring comedic screenwriter with a passion for African-Americans and Chinese food. In 2010 Graig co-created Idol Magazine (Idolmagazineonline.com), Which featured a staff consisting from past and current El Vaquero staff members. Idol Magazine has been recognized and awarded for it's questionably tasteless content and innovative design and is yet to be sued.
Graig also co-wrote His first screenplay Black Magic (BlackMagicMovie.com), A
comedy that follows Colin Laferty and his "Black Magic" Tabooky Tabucky Green III as they jump through different hurdles to avoid getting stuck in community college. Graig plans to shoot a short adaptation of this project with his brother and co-writer Hovsep this summer. Graig would like to apologize to all the professors who had the fortunate misfortune of having him in their class and would like me to tell you he never forgets anything.
Graig Agop, Columnist
Jun 14, 2010

Shoshannah Ain't No Hootchie

(Story)

Jun 14, 2010
Dec 10, 2008

Graig's 'New Deal' Solves Budget Crisis

(Story)

Dec 10, 2008

Celine Dion is Amazing

(Story)

Oct 29, 2008

Vote for Sexy – Staffer Makes Politics Personal

(Story)

Oct 15, 2008

Purity Ring Give Away!

(Story)

Oct 15, 2008

Columnist Muses on Purity Rings, 8-year Plan and Celebs

(Story)

Oct 01, 2008

Miley and Jonas Bros. Spread Hope

(Story)

Oct 01, 2008

Stars, Director, Author Apply 'Choke'- Hold to Press

(Story)

Sep 17, 2008

Being 'Wicked' Never Felt This Good Before

(Story)

Jul 30, 2008

Kathy Griffin Sinfully Satisfying in Sin City

(Story)

Jul 05, 2008

Santogold is Golden

(Story)

Jun 11, 2008

Columnist Gives Semester Recap

(Story)

May 28, 2008

Hollywood Columnist Takes on Traffic Cam, Coffee Bean

(Story)

May 28, 2008

A Fan's View: Hilty Says Goodbye to 'Wicked'

(Story)

May 14, 2008

No Shortcomings For Wango Tango

(Story)

Apr 09, 2008

Daddy, Why Does Miley Have Two Mommies?

(Story)

Mar 26, 2008

Miley's Secrets Revealed: Cyrus Enjoys Best Of Both Worlds

(Story)

Dec 12, 2007

'Spice World' Rocks Reality for Smitten Staffer

(Story)

Nov 28, 2007

Kelly Clarkson, Others Incur Hunter's Wrath

(Story)

Nov 14, 2007

Staffer Probes the Dark Heart of Celebrity

(Story)

Nov 03, 2006

She Wants Revenge, Placebo Rock the Greek

(Media)

Oct 20, 2006

Sixth Annual 'Bamboozle Left' Makes First Ever Trek to Los Angeles

(Media)