Fixing the Probation Predicament
In today's contemporary and technologically-advanced lifestyle, marked by its tumultuous environmental and societal changes, students must find a balance between attending class, studying and the various other life components that can shape a student's routine.
Some students are able to find this balance, while others are not. Stress, after all, affects individuals very differently. Besides the frustration this type of imbalance brings, students who struggle and lose sight of their goals as a result can be placed on academic and/or progress probation.
The former indicates an overall GPA below a 2.0, while the latter indicates when 50 percent or more of the classes have not been properly completed. In other words, if a student has taken 12 units or more and the cumulative number of withdrawals (W), incompletes (I), no-credit (NC) and no-pass (NP) units exceed or reach 50 percent, the student may receive progress probation.
After the third consecutive semester of either academic and/or progress probation, a student can be dismissed from the college and can only be reinstated after a fall or spring semester absence from the college.
In addition to possible dismissal from the college, federal financial aid eligibility can negatively be affected. Students can also lose the California Board of Governors Fee (BOG) Fee Waiver, which assists many with tuition costs.
In line with financial aid issues, after two consecutive semesters (fall/spring) of academic and/or progress probation, students also lose their priority registration privileges.
The most important take away is to be proactive when the notice of probation appears on a student's To-Do-List.
While it should be a time of self-reflection for the student as to why probation occurred, it is also a time of informative intervention by an academic counselor and the assignment of significant actions steps.
These steps are aimed at helping students to rise above probation.
➢ Remember: Probation does not define who you are as a person
➢ Pay attention to your "To-Do-List" tasks
➢ Pay attention to the warnings you see on your "To-Do-List"
➢ Schedule and attend a one-hour probation workshop
➢ After the workshop, schedule an hour appointment with an academic counselor
➢ Make appointments right after the workshop
➢ Remember, during peak registration times, appointments are limited
➢ Register for the appropriate number of units
➢ Full time work clashes with a full time academic load
➢ Ask about how to appeal Loss of Priority Registration
➢ Ask about how to appeal Loss of the BOG
➢ Ask about how to appeal the loss of federal financial aid
➢ Ask about academic renewal
➢ Remember to fill out the petition to count the higher grade
➢ Take a student development class to improve academic skills
➢ Read the catalog regarding GCC's academic policies
➢ Remember to work with your professors to change an incomplete "I" to a grade
➢ Be aware of drop and withdrawal deadlines
➢ Access professor office hours
➢ Utilize the variety of student services on campus
➢ Learn to calculate GPA
About the Contributor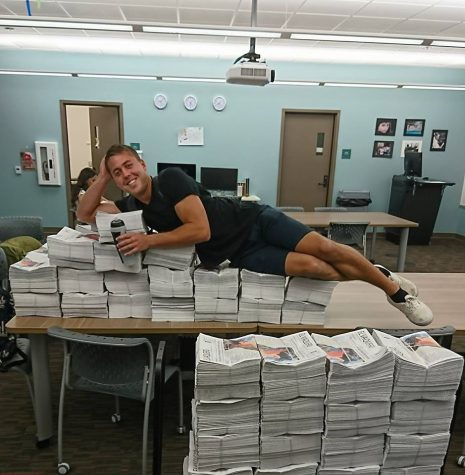 Ken Allard, Editor-in-Chief
Ken Allard is a Los Angeles native and is in his fourth year at Glendale Community College. He enjoys covering hard news, politics, feature stories, sports,...