Senior Night at Glendale Community College Draws 200
Around 200 high school seniors were welcomed to Plaza Vaquero for Senior Night on April 6, where they had the opportunity to experience life as a future Vaquero. Unlike previous similar events, this year's Senior Night invited parents, guardians, and friends, making the evening even more special, according to Talia Guiragossian of Vaquero Success Center.
Upon arrival, "each guest was greeted with goodie bags, a food ticket for the Habit food truck," said Guiragossian. Attendees also had "a chance to win one of the many raffle prizes that we were offering." Aside from the gifts and free food, ASGCC funded entertaining games, such as a punching scoring machine and life-size cup pong.
The event served a significant educational purpose by bringing together a variety of programs and clubs willing to share important and helpful information. Presentations were prepared about programs such as Promise Plus+, Transfer, and Scholars inside the Administration Building, Guiragossian noted. Incoming students and parents were also given campus tours, during which they learned a lot about the GCC campus and its different resources.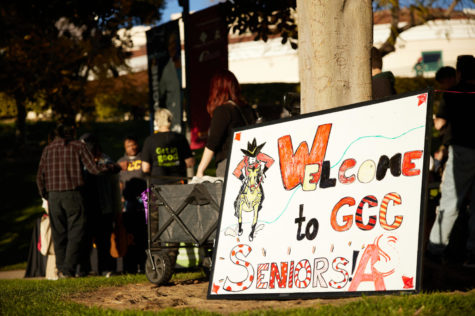 The entire objective of the gathering was to give high school seniors a taste of college life as future GCC students. Senior Night organizers said they sought to provide information and understanding about the college campus, as well as all of the assistance and support that will be offered in the pursuit of student learning.
Laura Manaseryan can be reached at [email protected].