Chasing Dreams: Racing to the Finish Line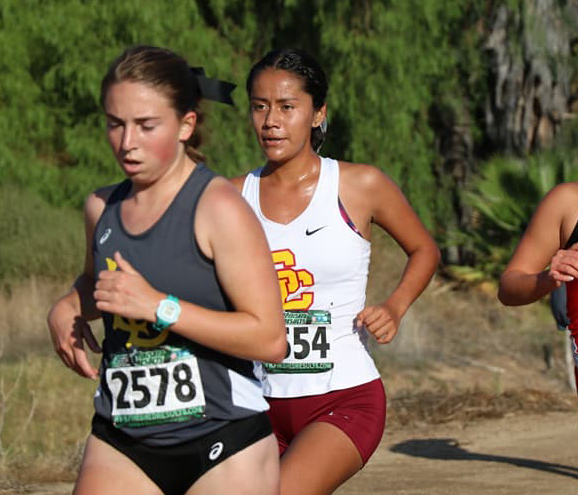 Alex Leon, Contributing Writer
November 8, 2017
The cross country and track and field office at Glendale College is a shrine to the past and a reminder to current student-athletes of what the expectations are for those that wear the uniforms.
That history is not lost on freshman Jennifer Cazarez, an 18-year-old from Santee High in Los Angeles, as she gazed one day after practice at the photos and trophies that adorn the small office.
She is the No. 2 runner on the women's team that recently won its 13-straight Western State Conference title Oct. 20, finished fourth in the Southern California Championships Nov. 3 and will be gunning for its third-consecutive state championship Nov. 18 in Fresno. But beyond her success in running and in the classroom, where she carried a 4.7 grade point average in high school and continues her academic success in college within the GCC's Scholars Program, her daily challenges have nothing to do with being a student-athlete.
Jennifer is an undocumented student who was born in Puebla, Mexico, in 1999, and came to the United States in 2008 as a fourth grader. She is very grateful to her family for the support she has received and smiled through her braces, putting her shyness to the side as she discussed her situation.
"I don't feel different or unique because I am not a citizen of the United States," Cazarez said. "If anything, it will make me work harder. I don't take anything for granted and my studies come first, and then the work I put in as a runner to support the team and help myself improve."
Improve. Webster's Dictionary defines the word as to make or become better or to increase the value of. After arriving in the United States, Jennifer was placed in the fourth grade but had to drop down to third grade for some subjects in order for her to improve her ability to read, write and speak English.
Fast-forward ahead nine years, where she took home a slew of recognition at Senior Awards night at Santee high school and was accepted to nine four-year colleges, including four Cal State and UC schools, like U.C. Berkeley. If it weren't for some missing paperwork, she might be at Occidental College now instead of Glendale College. But the Tigers' loss is a significant gain for the Vaqueros, said head men's and women's cross country coach Eddie Lopez.
"Jenni is one of the most well-rounded student-athletes that has come to us in recent years and we feel very fortunate that she is part of our team and part of our school community,'' said Lopez. "She is a great example of where hard work can get you if you work hard despite your circumstances, and I knew early on that she was a special talent in and out of the classroom and that is why she will be our team captain next year.''
Well rounded. The ability to deal with any situation and make the best of it. To be able to strive for excellence in and out of the classroom and be a role model for those who may struggle and help those who have trouble helping themselves.
Living close to downtown is a challenge in itself but Jennifer just goes about her business and maintains her focus. He sister Leslie, 21, is a recent graduate of Cal Poly Pomona and is her role model. It would be easier just to go to school and leave the athletic part of her behind but she enjoys the challenge of running and doing well in school. That is what drives her to succeed.
"The team at GCC has been great and I really enjoy being part of a group and working hard to be the best we can be," she said. "I run about 40 to 45 miles per week during the season, down from 60 during the summer and I feel really prepared when I hit the starting line for a race.
"And competing with someone as talented as our No. 1 runner Angie Salas is another thing that drives me, trying to keep up with her during races for as long as I can and finishing as strong as I can for the team."
The 2017 cross country season will be over in just a few weeks and then after a short break, training will start for the 2018 track season.
Classes will continue until mid-December and then everything will start over in January for the winter and then the spring semester and season.
Walking away from the cross country and track & field office, Jennifer Cazarez might wonder where she fits into all the success in the photos, trophies and awards that shine like a beacon for the athletes to observe. Step by step and little by little, she is finding her place and making her mark, working hard to do the best she can.
Her challenges are many but if history has a way of repeating itself, her future will be bright and nothing will keep her from reaching her goals.