GCC Launches Lactation Rooms for Parenting Students
GCC is hoping to bring awareness to the campus of their new private lactation rooms designed to help nursing and pumping mothers who often feel the need to choose between presence with their young children and school. The rooms are private to the extent that nursing mothers must request a code through a QR code or the website Lactation Rooms to ensure their continued use by mothers only.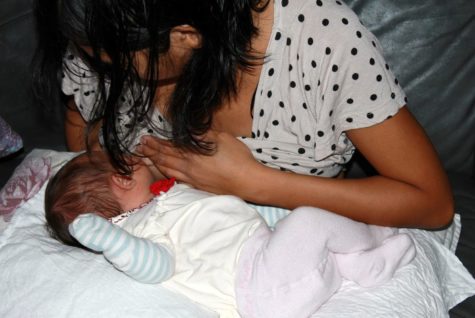 Breastfeeding has many health benefits for infants and children. This is why having a private and clean space to pump or breastfeed is essential for the physical and emotional well-being of mothers. Without proper facilities, mothers may find themselves using unsanitary and uncomfortable locations or even skipping pumping which can lead to health complications such as a decrease in milk supply and mastitis. Some mothers may feel embarrassed or stigmatized when they do not have a designated space to pump. This often leads mothers to not return to school or work after having a baby, or it forces them to give up on nursing.
Unfortunately, this accommodation may still be denied by some personnel due to a lack of knowledge of this law. It is everyone's job as a community to bring awareness and help mothers know that they are safe and they are entitled to a private room to pump or breastfeed their babies. It is important to note that these private rooms should not be seen as a luxury but rather as a necessity for the well-being and health of lactating mothers and babies. At the beginning of Jan. 1, 2016, all schools in California must provide a private and secure room, other than a restroom, for lactating mothers per LAW AB 302 which was signed by former Gov. Jerry Brown in October 2015.
Aarin Edwards, director of GCC's CalWORKs program that helps student parents, said that community colleges do not have a sufficient system to count all parenting students. She is also the advisor for the GCC Parenting Student Club. She believes that we need to have a better understanding of how many parenting students are attending colleges in order to design our colleges in ways that fit our parenting students. GCC has an estimated 20% of students that are parenting, and it would make sense that many of them are breastfeeding.
Edwards said the former VP of human resources Victoria Simons established the rooms during the pandemic. The Facilities Department contacted Edwards to ask if she would like to be responsible for providing access to the students.
Edwards said that the lactation rooms are available for those students who need them. She noted that in order to maintain the privacy of the rooms, the location of the rooms is not being advertised. Once a student signs up, they will receive all the information via a phone call from Aarin. She will let students know the locations of each room and they will receive a code to unlock the room.
GCC currently has two locations – one in the Garfield Campus and the other in the Verdugo Campus. Students can use the rooms at any time that they are available, as long as they have the access code and the buildings are open. The Garfield Campus is usually open until 4:30 pm and the Verdugo Campus building may be open a bit later than that. It is recommended to check if the building is open.
Edwards will provide students with all the necessary information to access the room and answer any additional information. At this point, not enough students are using the rooms, so no appointments are necessary. If the rooms get busier, an appointment system may be considered.
Each room is outfitted with a comfortable couch, a chair, a sink, and a refrigerator for each student to use. If they feel comfortable, they are able to leave the milk in the refrigerators as long as they label it with a date and student ID. However, students who elect to use fridges should know that there is no security at this time available for monitoring stored milk.
Faculty are also able to use the rooms. Edwards is only in charge of providing access to the rooms for students.
"I think we have one of the best colleges for all students that are parents at GCC," Edwards said. "We want to welcome you and want you to know that you belong here. We want to make sure you feel comfortable, and make sure this is an enjoyable place for you. GCC provides lots of information for all parent students and also has one of the best Parenting Student Clubs."
Additional information for student parents can be found at Parenting GCC students.
Brenda Gonzalez can be reached at [email protected]