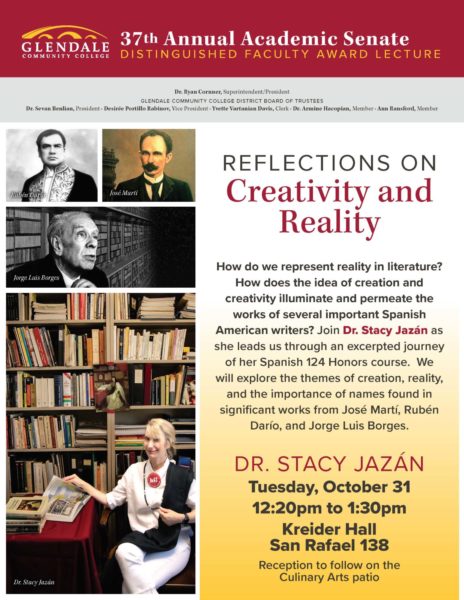 This year's Leonard DeGrassi Distinguished Faculty Award (DFA) presentation is scheduled for Tuesday October 31, at 12:20 to 1:30 pm in Kreider Hall.
The recipient is Dr. Stacy Jazán, and the title of her talk is "Reflections on Creativity and Reality." Professor Jazán will explore several questions and themes regarding the teaching of literature in general and Spanish literature in particular, for example: How do we represent reality in literature? How does the idea of creation and creativity illuminate and permeate the works of several important Spanish American writers? She will lead her audience through an excerpted journey of her Spanish 124 Honors course. She will explore the themes of creation, reality, and the importance of names found in significant works from José Martí, Rubén Darío, and Jorge Luis Borges.
Stacy began teaching at GCC in 2001 and has served on many committees and projects. Most recently, she was interim co-chair for C&I, Department Chair of Foreign Languages, Academic Senate Representative, and is currently co-chairing the Program Review Committee. In 2018, she published her poetry titled "Re(creaciones)" in UCLA's literary journal Out of Anonymity. In fall 2020, she was on sabbatical to create a Spanish 101 course housed in Canvas, utilizing OER and her own activities, to create a Zero Textbook Cost course as part of the campus-wide effort for equity. Since fall 2022, she has been serving as the Faculty Coordinator of Institutional Effectiveness and worked to submit GCC's ISER for its fall 2023 accreditation process.
Stacy was born in Inglewood, California, and raised in the San Fernando Valley. She attributes her love for books and learning to her mother who constantly told her, "You can do ANYTHING you want, just make sure you get your university degree first." Her love of languages and teaching began in the 7th grade when she studied Spanish and French. At Los Angeles Pierce College she participated in the Transfer Alliance Program, which led her to UCLA, where she received her BA (1991, Summa Cum Laude), MA (1996), and PhD (2002) in Hispanic Languages and Literatures. Her dissertation: Sowing the Seeds of modernismo: The Early Poetry of Rubén Darío (1879-1890), highlights her love of poetry. Her experience in the Transfer Alliance Program at LAPC was the main catalyst for her desire to teach in a community college and help guide community college students.
Story continues below advertisement
Stacy resides in Glendale with her husband Jorge, her "medio alfajor." Her son, Taylor, graduated from GCC in 2023 and now attends U.C. Berkeley for Mechanical Engineering and Aerospace. Her daughter, Chloe, is a senior at Crescenta Valley High School and is concurrently taking classes at GCC, with an interest in Geology and Environmental Science.