Welcome Back Bash Fall 2015!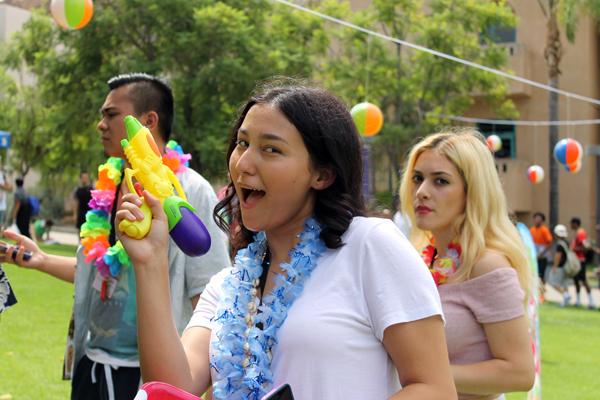 Beach ball decorations were bobbing and swaying in the air as if dancing along to the beat of the DJ as were some of the students.
Drinks were on ice in the pool, and the smell of churros and tacos permeated the air as the enthusiastic members of the ASGCC frolicked on the grass with water guns. Even a shaved ice truck was on hand compliments of Kona Ice.
Free tacos were the big draw to the "Welcome Back Beach Bash" hosted by the Associated Students of Glendale Community College on Thursday, September 10. The event took place in Plaza Vaquero to boost student awareness and involvement with student government and campus activities.
The ASGCC members were hard at work early on a hot summer afternoon in an effort to entice their fellow members of the student body to come out and enjoy some camaraderie, free food and a raffle.
Vice President of Campus Activities Ilona Evelina Martachian credited Representative of Campus Activities Jenna Nance with this semester's event design work.
Other representatives on hand were President of Alpha Gamma Sigma Danial Golforoush, Vice President of Administration Elin Mikaelian, and Senators of Campus Activities Patrick Damadian and Emin Azarian to see that everything ran smoothly.
Students that "liked"the ASGCC Facebook page while attending the event were entered into a raffle for three prizes.
This semester's raffle winners were Sam Park of a $25 gift card to Coffee Bean, Mane Ajaryan won a $50 gift card to the campus bookstore, and Hannah Boynton won a fall parking pass valued at $75. Student body member Clinton Roberts said, "I appreciate the free food" as he walked away with tacos and a cold drink in hand.
To keep up with current ASGCC activities please "like" their page on Facebook, Associated Students of GCC.