Utility Day at Glendale Water and Power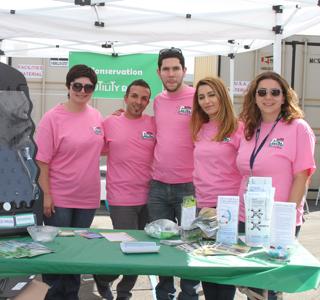 Glendale Water and Power welcomed local residents to an open house event at the Utility Operations Center on Oct. 23.
GWP hosts the Utility Day event once a year in an effort to inform Glendale residents how they provide them with water and electrical services. The booths included water quality and conservation, electrical engineering and customer service offering information and interactive demonstrations.
There was also a guided tour of the Grayson Power Plant, where residents got a better look at the surrounding facilities. Conducted by operation managers and control supervisors, groups were walked through the control room of the plant, where the kids and adults were both shown panels that were covered in lights and switches.
Afterward, they went out to the cooling tower where unused steam from five boilers are converted back into water and reused. The boilers help power turbines that generate between 30 to 60 megawatts by heating up water into steam, producing a total of 180,000 megawatt hours per year.
Grayson uses the same technology today, with a few minor updates, as they did back in 1941 to maintain operations. The plant continues to grow, providing Glendale with 15 percent of its power and serving up to 10,000 homes.