Engineering Students Host Maker Faire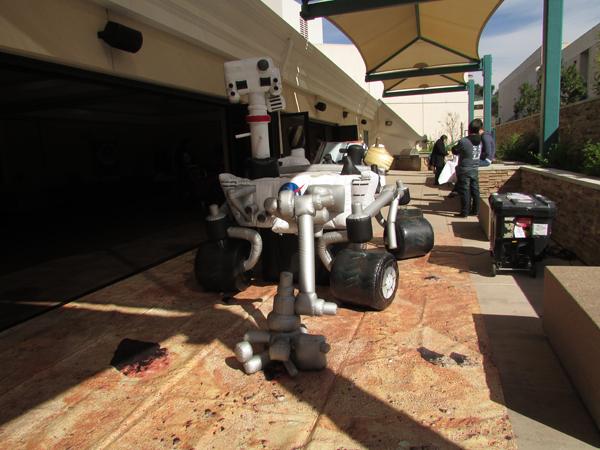 The Society of Hispanic Professional Engineers (SHPE) held its second-annual Maker Faire on Feb. 25, next to the Aviation/Art building. Volunteers handed out bags with information about career and technology programs at Glendale College.
During the event the members of SHPE talked to attendees, explaining the layout of the club.  SHPE Vice President Diego Barreto has been part of SHPE since last year and mentioned the club has helped build resumes. The organization goes to conferences, attends workshops, career fairs and also helps students with their networking skills.
One of SHPE goals is to empower Hispanics in a field where they can be seen as the minority.
"SHPE members see each other as a 'familia' and that they always motivate each other," Barreto said.
Presentations were held in the auditorium. Xavier Hernandez, owner of a branding company called The Company, said he started his own business, even though he struggled during his classes. The idea behind it was combining branding strategy and hip-hop to create a unique version of themselves.   
Michael Cox, a data scientist, spoke about his education background. He started working at Jet Propulsion Laboratory (JPL) a year and a half ago, and is currently working with ROV-E, a new Mars outreach rover. Cox said while working with ROV-E, he programmed Amazon Echo to the robot's system, which gives it  the ability to answer any questions and also gives out facts and daily updates about Mars.
During the panel ROV-E had a malfunction and Cox was not able to show how its programmed or how Amazon Echo functioned on the rover.
Matt Stumbo, a systems engineer at JPL, joined the team three years ago. His story started from attending Cuesta College to transferring to Cal Polytechnic State University. Stumbo was part of a team in 2015 of rising professionals, and had only been in JPL in three years or less, that had learned on building a Mars rover from scratch.
Fernando Santana Ponce, President of SHPE, led the crowd to workshops in the library, Advance Technology building and the planetarium. There was also an exhibition in the Aviation/Art Annex building where 2D house models, 3D printers and many different types and sizes of robots were showcased.
Delmi Martinez, vice president of SHPE, wants to get women and minorities interested in engineering. One of their goals in SHPE is to expand their organization not only to other colleges, but also high schools
"I want to get involved in engineering and invent things that are more eco-friendly," said Martinez.
Martinez and Barreto said they held a workshop in John H. Francis Polytechnic High School in Sun Valley. The club is currently trying to establish more programs for students in high school and middle school.
SHPE not only helps you build a career in engineering, but also empower students and motivate. Their plans for the future is to establish a junior engineering chapter in high schools to motivate students.