Commemorating the Armenian Genocide, 101 Years Later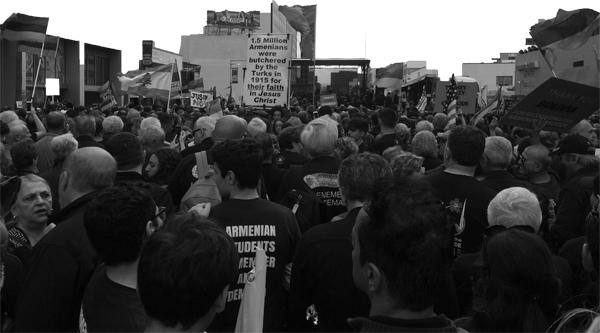 Every year, the Armenian community, near and far, unites in an effort to bring recgonition to  the Armenian Genocide.
While this year marks the 101st anniversary of the massacres of Armenian men, women and children by the Ottoman Turks in 1915, the efforts come at an especially sensitive time as tensions rose between Armenia and Azerbaijan earlier this month.
While the conflict was settled on April 5, the Armenian diaspora plans to make their voices heard through commemorative event held throughout the Greater Los Angeles Area.
15th Annual Armenian Genocide Commemoration Event —
Armenian Clubs of the Glendale Unified School District will gather at Glendale High School's John Wayne Performing Arts Center 6 p.m. tonight for a collaborative presentation.
From Armenia to Rwanda — All Armenian Student Associations will meet at UCLA in Moore Hall 100 7 p.m. tonight for a panel discussion highlighting the experiences of those targeted in the Assyrian, Rwandan, and Bosnian Genocides and Holocaust.
Western Armenia: 100 Years After the Genocide — Glendale Community College Armenian Students Association will host a presentation on the destruction and survival of Armenian treasures with Matthew Karanian, documentary photographer and author of Historic Armenia in Kreider Hall from 12:20 to 1:30 p.m. Thursday.
15th Annual Commemoration Ceremony — The City of Glendale will honor the lives of 1.5 million victims at The Alex Theatre 7 p.m. Friday.
Tickets are free and available at Glendale Community College Box Office. Visit www.alextheatre.org for more information.
Montebello Monument —
The United Armenian Concil will host a gathering at the Armenian Genocide Matryrs Monument at 901 Via San Clemente in Montebello from 1 to 3 p.m. Saturday.
100+1 Anniversary — Gaidz Youth Organization, ACA San Gabriel Chapter, and the Armenian Athletic Association (Homenmen) will host an event at Pasadena Memorial Park. at 7 p.m. Saturday.
Candlelight Vigil — Unified Young Armenians will host a vigil in memory of the victims at Parcher Plaza in Glendale at 6:30 p.m. Saturday.
March for Justice — UYA will initiate a march around Little Armenia, starting at the intersection of Hollywood Boulevard and Hobart Avenue at 10 a.m. Sunday.
Rally for Justice — The Armenian Genocide Committee will lead a rally in front of the Turkish  Consulate on Wilshire Boulevard at 1 p.m. Sunday.
Genocide 101 — A concert to commemorate The Armenian Genocide will be held 6 p.m. Saturday at the Beyond the Stars Palace at 417 N. Brand Blvd.
Silence the Lies: Rock the Truth VIII — K'noup presents the seventh annual social justice concert dedicated to raising awareness of the Armenian Genocide at the Troubadour at 9081 Santa Monica Blvd. in West Hollywood at 7 p.m. Sunday.
Tickets are available at www.silencethelies.com. $20 if purchased in advance, $30 at the door.
Armenia: An Open Wound —   The City of Glendale and the Library, Arts & Culture Department in partnership with the Armenian American Museum present Armenia: An Open Wound, on view at the Brand Library Art Gallery  at 1601 W Mountain St. in Glendale through June 11.
The exhibition debuted last April at the Museo Memoria y Tolerancia in Mexico City. Lectures, panel discussions and musical performances have also been scheduled in collaboration with local and regional community partners as supplements to the installation.
"Global Realities, Local Perspectives: Examining the Refugee Crisis through Community-Based Action" from 7 to 9:30 p.m. Thursday.
"Commemoration as Public Art" from 1 to 3 p.m. April 30.
Screening of "Latino Americans: Empire of Dreams (1880-1942)"
from 7 to 9:30 p.m. May 5.
Screening of "Journey to the Homeland" 7 to 9:30 p.m May 13.
"Conversation with the Curator"
from 1 to 3 p.m. May 14.
"Armenian Heritage: A Virtual Pilgrimage" from 7 to 9:30 p.m. May 19.
"Curator in the Spotlight: Illuminating the Armenian Middle Ages" from 7 to 9:30 p.m. May 26.
"Preserving the Past, Building the Future: the Role of Museums in a Changing World" from 7 to 9:30 p.m. June 2.
Gallery Hours: From 12 to 8 p.m Tuesday and Thursday, from 12 to 6 p.m. Wednesday, and from 10 a.m. to 5 p.m. Friday and Saturday. Visit www.brandlibrary.org for more information.
"Armenia, My Love" —  Feature film that captures the experiences of an Armenian-American artist who paints the story of his shattered childhood as he recalls the struggle of growing up in the Ottoman Empire in 1915.
In theaters for a limited time at select venues. Tickets available at the box office.
Showtimes:
MGN Fivestar Cinema
128 N. Maryland Ave., Glendale, CA 91206
Tonight: 8:30 p.m.
Laemmle NoHo 7
5240 Lankershim Blvd., North Hollywood, CA 91601
Today: 1:10 p.m., 7:10 p.m.
Thursday: 1:10 p.m., 7:10 p.m.
Laemmle Playhouse 7
673 E. Colorado Blvd., Pasadena, CA 91101
Today: 1:10 p.m., 7:10 p.m.
Thursday: 1:10 p.m., 7:10 p.m.