Parent/Student Education Program Holds Harvest Hoedown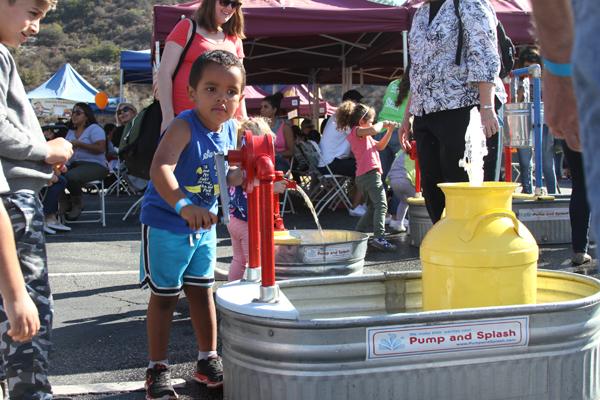 On top of the hill near the student campus parking, the Parent/Student Education program held their annual Harvest Hoedown Saturday.
Activities and vendors were sprawled all over, including a petting zoo for the children. Local policemen and firefighters entertained the children with access to their fire trucks and cars, having each child play with the sirens to feel the excitement.
The Glendale College Parent/Student  Education program was created 65 years ago, in order to teach parents and children how to learn and grow from one another through activities and parent education.
"We have so many fundraisers throughout the year, but this event is specifically give back to the students and the community," said Barbara Flynn, director of the program.
Two of the biggest attractions were a white school bus and a pump and splash. A white school bus was brought to expand the creative minds of the children. It was created as a canvas with painted flowers, little scribbles and finger paintings. The inside of the bus was surrounded by chalkboards instead of the usual seats.
"As a parent we can't do everything right but we can create the atmosphere on how to be the best parents possible to our children." said Bertha Garcia, a mother of two, and participant of the program.
This event was a six-month process. Parents came together and coordinated every step of the way from decorations to the games. "We are so happy that parents and children came together to have good time at the Hoedown," Flynn said. "The turnout was greater than we expected."
To get involved with The Parent Education Program register online for winter or spring semester. To volunteer for upcoming events contact the office at (818) 243-5196.