Campus Police Welcome Two New Officers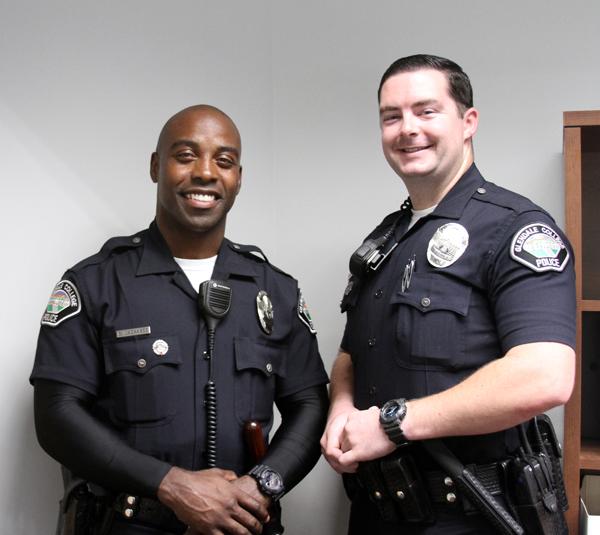 Well aware of the hazards of the job and the public's jaundiced view of police, Brandon Mackabee, 35 took a leap of faith and successfully completed the Los Angeles Sheriff Department Police Academy.
Now, at 35, the Santa Clarita native is one of the newest officers in the college's police department. Prior to that he worked in the field of public safety.  He enjoyed serving and wanted more, he took a chance and passed the academy program and applied for the GCC officer position.
"The times we are living in, many people don't like police officers," Mackabee said. "I just want civilians to know that with everything going on that we can be trusted. We are here to help."
Also new on the force, Officer Nicholas Allen, 24, a Sunland/Tujunga native, grew up around Los Angeles County. He graduated with fellow classmate and now colleague Mackabee. Both are graduates of Los Angeles Sheriff Department Police Academy class 414. They are both excited and ready for this new journey.
"I became an officer to serve my community," Allen said. "I have many uncles in the LAPD that I looked up to growing up, who inspired me to become an officer."
Allen worked for the campus police as a cadet for 5 ½ years before his elevation to officer succession as officer.
Allen applied with the anticipation and hope to get hired on staff after seeing the job post. " As an officer it is my greatest honor and duty to serve. And I am so ready to be the best officer I can be,"  Allen said.
Allen wants the students to know that police officers are still human under the uniform, especially with all the recent current events.
"I am still the same person inside or outside the uniform," Allen said.  "I would love to get to know students. I want to bridge that gap between officers and civilians. We aren't robots we have hearts too."
Police Chief Gary Montecuollo, shared they are young, knowledgeable and ready to take on the responsibility for GCC as well as the outskirts of the campus, keeping students and other civilians safe.
"Preventive patrol is our mission," Montecuollo said.   "I want my officers to be transparent and able to hold conversations with students and staff and just be open and listen, sowing the seed of relationships so people can feel more open and welcomed to talk to us."
The department encourages students to sign up for the emergency alert system, NIXLE, by texting "GO GCCALERT" to the number 888777 or visiting glendale.edu/police.