The Politics of Masking
President Trump drafted his most shared Tweet on his Twitter account. On Oct. 1, 2020 at 9:54 p.m., Trump, 74, tweeted: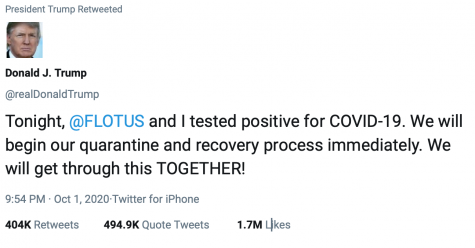 Trump's 'positive for COVID-19' post is also his most-liked tweet ever on his Twitter account. Two hours prior to Trump's confirmation, at 7:44 p.m., Trump revealed that his senior advisor Hope Hicks, 31, had contracted COVID-19. He tweeted: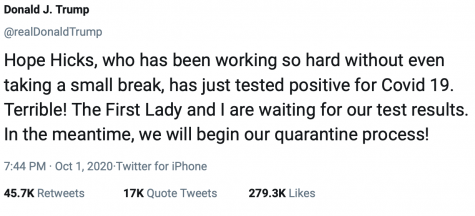 Trump's son, Baron, 14, later tested positive for the virus. At 10:27 p.m. The First Lady, Melania Trump, 50, wrote on her Twitter account: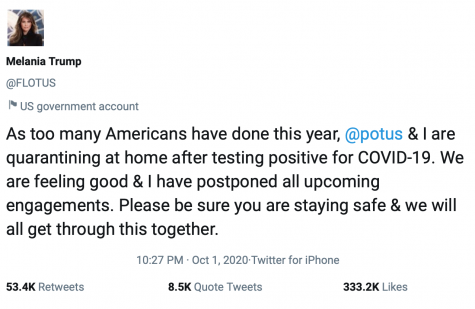 President Trump may be the most powerful man in the world to contract COVID-19. However, the president is not the only person in the world to belittle mask wearers and shun individuals for wearing a face covering. The people who shun wearing a mask have been named, "anti-maskers" or "Covid-deniers." Anti-maskers and Covid-deniers are being compared to anti-vaxxers. Because all three groups publicly and vehemently rally against healthcare experts guidelines that are put in place to protect all others from contracting viruses. Other world leaders who refused to wear a mask, only to contract COVID-19 themselves, were outlined in a recent Business Insider article titled "Athletes, Priests, and Presidents: 10 Public Figures Who Didn't Take the Coronavirus Seriously and Got Infected Themselves."
The following world leaders and politicians balked at masks' efficacy and helped to bolster the anti-masker movement with down played rhetoric and actions:
The Prime Minister of the United Kingdom, Boris Johnson, 56, tested positive for COVID-19 on Mar. 27, 2020 and recovered in the hospital.

Brazil's President Jair Bolsonaro, who repeatedly belittled the threat of coronavirus, called the virus a "little flu." Bolsonaro down played the virus when it was reported by a tracker at Johns Hopkins University that Brazil had the third-highest amount of cases and the second most deaths in the world. Bolsonaro tested positive for the virus on July 8.

Not all of the influential individuals listed in the

Business Insider

article had the same experience. Herman Cain, 74, former GOP presidential candidate's now deleted tweet: "Masks will not be mandatory for the event, which will be attended by President Trump. PEOPLE ARE FED UP!" Cain ended up contracting COVID-19. He was hospitalized and died on July 30.

U.S. Congressman Rep. Louie Goh­mert, 67, tested positive for the coronavirus on July 29 after refusing to wear a mask in the Capitol. Gohmert later suggested that he might have contracted the disease because he was wearing a face covering. Gohmert went on to say: "I can't help but think that if I hadn't been wearing a mask so much in the last 10 days or so, I really wonder if I would have gotten it," he said, according to

The Daily Beast

.
Rep. Gohmert isn't the only one who thinks that wearing a mask is potentially more harmful to the wearer than the possibility of contracting COVID-19. Anti-masker groups such as E.A.T. (Entrepreneurs Against Tyranny), support restaurateurs who refuse to follow state guidelines that enforce patrons to wear masks. According to Mick Stinelli's the Pittsburgh Post-Gazette article, "Despite Trump's Positive Test COVID-19 Deniers Persist."
Christine Wartluft, owner of Taste of Sicily restaurant in Lebanon County said:
"The president got the flu, he knows that this whole COVID thing is totally blown up."
Wartluft was not concerned about President Trump's recent COVID-19 diagnosis. Wartluft was more concerned with ending her restaurant's restrictions. Wartluft has ignored COVID-19 protocols and is facing a $10,000 fine.
Kimberly Waigand, restaurant owner of the Crack'd Egg sued The Allegheny Health Department after they shut down her restaurant when she failed to enforce safety precautions. Because Waigand believes the mask mandate is "fear mongering" and "an agenda". Waigand stated why she is also against getting vaccinated for the flu:
"Because I don't want it. I got it one time and I ended up getting sick."
The Centers for Disease Control and Prevention states this is one of the misconceptions about the seasonal flu. Social media has made misinformation so quick to spread and cause misconceptions and conspiracy theories that the flu shot gives people the flu. Wearing a mask gives people the virus. The virus is a hoax. And vaccines like MMR (Mumps, measles, and rubella) give children autism. These misconceptions are furthered by people not receiving their news through reputable publications. Science vs. unverifiable misinformation and the ability for social media to trend at lightning speed has created the chaos that has led to the public's misconceptions that concern COVID-19 deniers, anti-maskers, and anti-vaxxers. Misinformation created distrust in science. And the distrust in science has been politicized and has made Dr. Fauci and his wife to be accompanied by federal agents because of the death threats that Fauci has received. According to a Business Insider article, "Anti-maskers are the New Anti-Vaxxers" by Anna Medaris and Hillary Brueck:
Perhaps there's no better example of this than the saga of the anti-vaxx leader Andrew Wakefield. After the British doctor was discredited for falsely linking vaccines and autism and spreading fear globally, the UK's General Medical Council in London said Wakefield had acted unethically, and his UK medical license was revoked.
Wakefield moved to the U.S. where he continues to give anti-vaxxer speeches in Austin, Texas where childhood vaccination rates have plummeted.
Anti-maskers do not want to lose their personal freedom to a mask. Here is what the anti-maskers said about why they haven't worn a mask on Youtube by act.tv, "The Horrible Trump Anti-Masker COVID Denier Movement In Their Own Words":
On Sept. 29, 2020 at the presidential debate in Cleveland, Trump ridiculed his Democratic opponent Joe Biden, "I put a mask on when I think I need it," Trump said. "Every time you see him, he's got a mask." This was not the only time Trump made disparaging remarks about Biden's insistence on adhering to CDC guidelines to wear a mask in public.
Just three days before the presidential debate on Sept. 26, at the White House's Rose Garden,Trump announced his Supreme Court nominee choice was Judge Amy Coney Barrett. The Rose Garden event was touted as a "super spreader" event as most of the attendees sat and greeted each other with hugs, handshakes, and fist bumps. There was very little distance between attendees and most notably, most of them,like the President, did not wear a mask. Attendees did not abide by Dr. Anthony Fauci, M.D. NIAID's Director's advice who has served six presidents and has received multiple awards throughout his illustrious career. Nor did the attendees abide by the W.H.O. and CDC guidelines. The tax paying American public have had to abide by the CDC guidelines in order to go into any store to receive essential goods like groceries. Many of the attendees serve in government offices that receive their salaries from American tax-payers. Yet, the government officials chose to not follow the CDC guidelines that our nation's essential workers have complied with every day for hours on end in order to serve the American public. When did a health related crisis during a pandemic become a political issue? And when did our public servants become less responsible than our grocery store clerks? Were the attendees afraid that they would have offended the President if they wore a mask, socially distanced, and not attended large gatherings? The President has repeatedly mocked others and touted that he doesn't wear a mask and has repeatedly asked White House reporters to take off their mask during press briefings because he said that he could not understand them. After the "super spreader" White House Rose Garden nomination Politico.com reported that more than 35 attendees tested positive for Covid-19.
This was the list of notable Covid-19 attendees, included are some of the elected and government paid officials:
President Donald Trump

Melania Trump, first lady

Stephen Miller, Senior Adviser to the president

Bill Stepian, Trump campaign manager

Kayleigh McEnany, White House press secretary

Trish Scalia, wife of Trump's Labour Secretary Eugene Scalia

Sen. Thom Tillis (R-N.C.)

Sen. Mike Lee (R-UT)

Sen. Ron Johnson (R-Wis.)

Kellyanne Conway, former White House counselor

Chad Gilmartin, White House principal assistant press secretary

Karoline Leavitt, White House assistant press secretary

Chris Christie, former New Jersey governor

Gen. Gary Thomas, Assistant commandant of the Marine Corps

Adm. Charles Ray, Vice commandant of the Coast Guard

Ronna McDaniel, Chair of the Republican National Committee

Greg Laurie, pastor of Harvest Christian Fellowship

Al Drago, photojournalist

Nick Luna, Trump's body man

John Jenkins, University of Notre Dame president

Claudia Conway, Kellyanne Conway's teenage daughter

Barron Trump, teenage son of the president
All of the attendees were led by the President's example like sheep following their shephard. It's left little doubt that the President of the United States is one of the most powerful and influential men in the world. "Follow the Leader" became the most dangerous game in the world.
Business Insider with Trump's quote on masks.
"I dunno, somehow I don't see it for myself. I just don't," President Donald Trump, who has promoted dangerous falsehoods about vaccines, said of face masks in April as he announced the new CDC recommendations to wear them. "Maybe I'll change my mind."
Marian Boop can be reached at [email protected].