Construction Update: Sierra Vista Building Nears Completion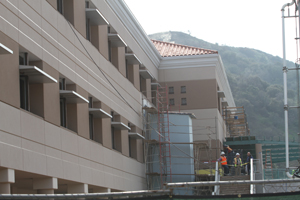 The long-awaited building, Sierra Vista, has fell behind due to a whirlwind of setbacks, but the district has set a confident completion date: May 27.
Sierra Vista consists of three floors, 16 classrooms and a one-stop center that will contain the necessary services students seek regularly.
Last September, the completion status of the entire building stood at 75.4 percent. At the end of February it reached 93 percent. Exterior finishes are 85 percent complete, while the first floor is at 95, second floor at 92 and third floor at 76.
"Seven percent is left to reach the finish line," said Nelson Oliveira, director of facilities and construction. "The toughest assignment is to close the last five percent; this is a critical phase."
This last phase ensures that all mechanical, electrical and plumbing devices are functioning as intended. Sierra Vista is following Leadership in Energy and Environmental Design (LEED) guidelines, which promotes energy efficiency in new buildings. Under LEED, buildings can be certified as silver, gold, or platinum. The building will achieve Silver certification since it includes low-flush toilets and urinals that use reclaimed water, and ground-source heating and cooling.
Glendale College has hired Glumac, a commissioning agent, that will conduct point-by-point checks on mechanics, electrical equipment and plumbing in order to achieve the LEED Silver status, Oliveira shared.
"The process has been a struggle with the contractors and the deficiency with them," said Karl Aldridge, construction project manager. "The most difficult stage has been the mansard roof and the mechanicals of the building."
At the recent Board of Trustees meeting, Ron Nakasone, executive vice president of administrative services, prepared a recent report on Sierra Vista. In the agenda it mentions the heating, ventilating and air conditioning has had "minimal progress."
West-Tech Mechanical Inc. is at fault for this due to their "failure in meeting their schedules, not deploying enough resources and having difficulties getting the projects certified by the inspector of records," Oliveira said.
As a result there was a meeting held on Wed. Feb. 24 with West-Tech, who committed to improve their resources and quality controls so the schedule can be met.
Mallcraft, the general contractor, believes they will reach the finish line March 31, but Oliveira was quick to object. "Not by far," he added.
Mallcraft has made a schedule revision, which mentioned they will have a substantial completion by April 12. But Cumming Construction Management and Glendale College Department of  Facilities are projecting it will take until the end of May.
"To achieve this, Mallcraft needs to work really hard and be very diligent with their schedules and not let the schedules slip," Oliveira said.
Mallcraft shows commitment in the Change Order 14 agreement. It establishes an increase in from $2,500 per day to $6,500 scheduled for additional days after March 31.
"Occupancy can be expected for the first week of July," Aldridge said.