The Art of The Motorcycle Rolls Into Forest Lawn Museum Exclusive Slideshow Coverage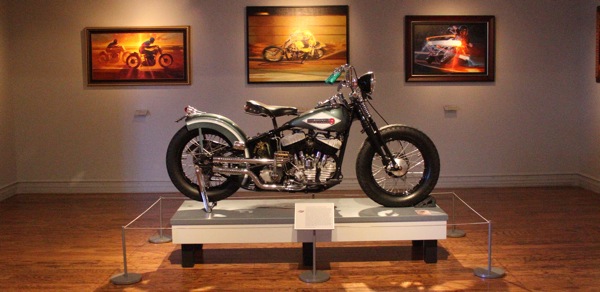 VROOM: The Art of the Motorcycle exhibit is currently open at the Forest Lawn Museum in Glendale.
This one-of-a-kind collection spans more than 100 years of motorcycle history. It features classic collectable motorcycles, along with sculptures, paintings, custom painted gas tanks, helmets, books, clothing and more.
Slideshow Media Credit: Richard Kontas
Some of the more noteworthy motorcycles are an ultra rare 1910 Flying Merkel, one of which recently sold for $86,800. However don't hold your breath for another to be on the market soon. An immaculate 1914 Harley-Davidson is also featured. Other models include a 1938 Crocker, valued at more than $100,000, a 1938 Indian Sport Scout Flat Track Racer that is displayed publicly for the first time. Also the Suzuki Hayabusa from the Transformers movie, a Gilera racer and a 1965 Harley-Davidson Dragbike called "The Hog."
Slideshow Media Credit: Richard Kontas
The exhibit is co-curated by John Parker, who is the impetus behind this eclectic collection being brought together from various owners and locations, many of whom requested anonymity.
A big thanks to Beth Laski and the Forest Lawn Museum staff for allowing access for the photography.
The free exhibit runs through Jan. 4, 2015. The museum is located at 1712 S. Glendale Ave. and is open daily except Mondays from 10 a.m. to 5 p.m.
Slideshow Media Credit: Richard Kontas