Tennis Players Cause a Racket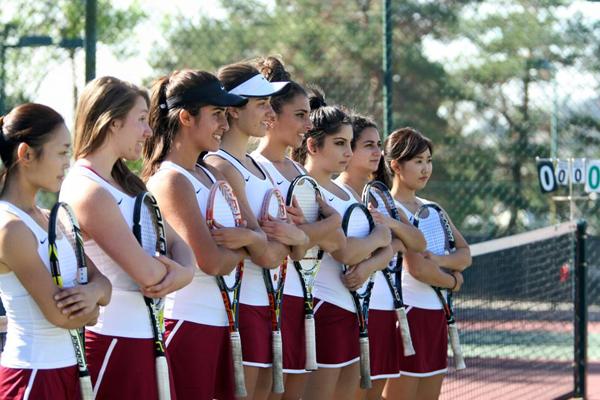 The women's tennis team finally got over the hump and captured their first Western State Conference Championship after defeating Santa Barbara City College 6-3 March 24.
SBCC handed Glendale a rare loss in their first meeting, but the Lady Vaqs rebounded by winning five straight matches leading up to last Tuesday.
The winning streak combined with two SBCC losses put both teams at 14-2 overall and set the stage for a winner-take-all match that would decide the 2015 Western State Conference champion.
The victory and subsequent championship highlight a remarkable season for the Lady Vaqs, according to Coach Deo Sy.
"What the girls have accomplished is an extraordinary feat that does not come around all the time," Sy said.
He believes that this team can go far, but is happy with everything the team has already accomplished.
"Remembering where they were when I first met them, to where they are now academically, athletically, physically, and mentally, I believe they have matured and grown as individuals," he said.
Female Athlete of the Week last week, Meredy Gharabegi, 18, has also seen the growth in each player and herself.
"In the beginning we weren't as together mentally, but we got stronger as the season went along," she said.
According to Sy, the consistent play this season is a result of being responsible and being able to sacrifice, traits he attributes to describe Gharebegi.
"Meredy Gharebegi is a hardworking, caring, and sacrificing individual," he said. "She puts others well-being before hers.  She's an inspiration and has the potential to do great things," he said.
Gharabegi has been playing tennis since she was three with the assistance of her father.
"I'm an only child and I spend a lot of time with my parents," she said. "My dad played [tennis] when he was younger and he always wanted his child to play."
The Kinesiology major is in her first year at Glendale College after attending Burbank High School and understands the magnitude of her team's accomplishments.
"It feels amazing," she said. "Knowing that we could get this far after just graduating has meant so much to me."
But the first championship for the women's tennis team is more than just a title to Sy.
"Winning a WSC title is a privilege, and the girls are honored to accomplish such a great feat," he said. "As a coach, sports is a tool that is used to push individuals to their limits.  If they can overcome these obstacles, then whatever life throws at them doesn't seem too bad."
Their last regular season match is here today against New Mexico Military at 2 p.m. and postseason play begins Tuesday..