Shakespeare Returns to College Stage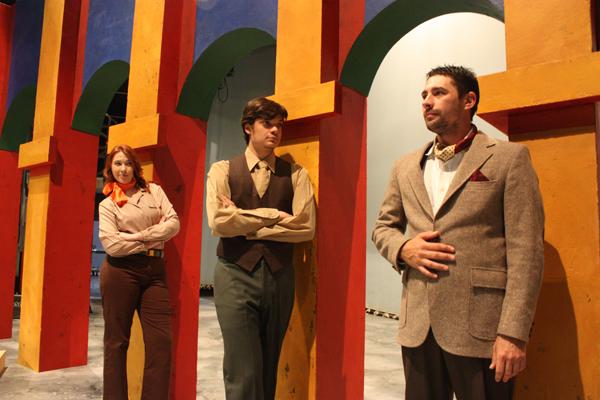 The Glendale Community College's theater arts department strives for success on their re-envisioned interpretation of Shakespeare's "Much Ado About Nothing," which premieres tomorrow at 8 p.m. in Glendale College's auditorium.
Matt Foyer, the performance instructor/director, shared his insights and expectations for the upcoming play. In the 15 years that Foyer has taught at the college, he directed productions such as "Rhinoceros" by Eugène Ionesco, and "Wait!" by Julie Jensen.
In his interpretation of Shakespeare's "Much Ado About Nothing," Foyer is hopeful that this play has the potential tobecome of one of his most cherished productions at GCC.
"Every play is different and unique because a play is a composite of people," he said.
"Much Ado About Nothing," talks about the trials, tribulations and redemption of love and deception. Foyer is enthusiastic about this production, for he perceives and envisions this play as "a great story that is essentially a comedy that has transcended time and people."
Foyer said that another aspect of this production that he is enthusiastic about is the idea that consists of "a reinvigoration of a new group of actors experiencing this play for the first time, bringing our interpretation to life."
Suitable casting is among the essential keys in the structure of a story interpretation. The production combines the talent of experienced actors and actors who are "brand-new." Foyer sees this as a "a great combination of voices and potential."
The beauty of Shakespeare's language and storytelling keep the art of theatre alive, or in some cases, reborn, through "the reinvention of story and the fact that these stories can be told over and over again and reinterpreted over and over again," Foyer said.
Two weekends with seven performances, "Much Ado About Nothing" will be displayed on the stage of the auditorium until April 12, Thursday through Saturday at 8 p.m. and 2 p.m. on Sundays. Tickets are available online at GlendaleArts.org or at the GCC Auditorium Box Office. For more information, call (818) 240-1000, ext. 5612.