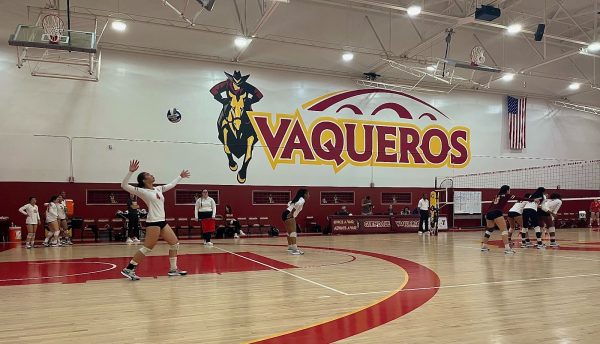 After losing a tough match against Santa Monica on Oct. 13., Glendale women's volleyball fell short again against undefeated Bakersfield, leaving their conference record 3-3. Tied for second place in the WSC league, Glendale came into the match optimistic and prepared to take on the resilient team of Bakersfield; however, with the 25-point sets being scored 21-25, 15-25, and 18-25, Bakersfield improved their conference record to 6-0 by sweeping Glendale in three sets.
This week, Glendale College lost two players in pivotal setter roles leading to a new game strategy. "When we were watching the film, we knew we had to neutralize their defense. We had to get our hands up on the block, we had to make sure we were tracking the setters, and we had to make sure we were mixing up our attacks" Glendale's Women's Volleyball Coach Yvette Ybarra said. "We played as a team the whole game. If we made an error, it was as a team. If we did something positive, it was as a team. They were problem-solving and you could see that" Throughout wearing down Bakersfield's tough offense, many players emerged to prove key in putting up some points.
Leading Glendale in serves and digs, freshman Zhimin Yu totaled 14 serves, two aces, and six digs, proving consistency is key to gaining some valuable points. On the offensive side of the battle, freshman standout Jayden Dedaaux struck again, leading the team with four kills, with sophomore Sofia Gregorio, freshman Poet Crum, and freshman Kelaiyah Johnson all putting up three kills. Even though the match did not end up in Glendale's favor, the team was able to neutralize Bakersfield's powerful offense, keeping every set close. Coming off a two-game losing streak, Glendale hopes to boost team morale and improve their record with their upcoming match against Canyons on Friday, October 20th.
Samantha Smith can be reached at [email protected]
Story continues below advertisement