Lady Vaqs Make History With Their Third Straight Western State Conference Southern Division Title
Glendale Community College's women's basketball team defeats the Citrus College Owls
Feb. 18 marked a monumental day for Glendale Community College's Women's Basketball Team as the Lady Vaqs emerged victorious with a score of 71-45 in their game against the Citrus College Owls. According to Sports Information Director, Alex Leon, this game was the team's "third straight Western State Conference Southern Division Title and help[ed] earn Head Coach Joel Weiss his 100th career victory at Glendale in just five years." Beyond the importance of the victory for the team and Coach Joel Weiss, this game was especially significant for sophomore players Vicky Oganyan, Emily Sisson, and Polina Kovaleva as they "were honored before their final regular season game in the Verdugo Gym," an email from Sports noted.
The Lady Vaqs started strong with a score of 17-0 in the first quarter and continued this lead with a score of 42-21 by the end of the halftime. Throughout the game, 10 players scored with freshman Kayla Wrobel taking the lead in number of points scored. Wrobel scored a total of 17 points and 12 rebounds. Alex Leon further expressed, "Megan Delgado added 14 points off the bench and hit four 3-pointers as Glendale hit on 13 of 31 from beyond the arc for 41.9% for the game. They shot 75% from the field in the first quarter to lead 30-9 after the first 10 minutes."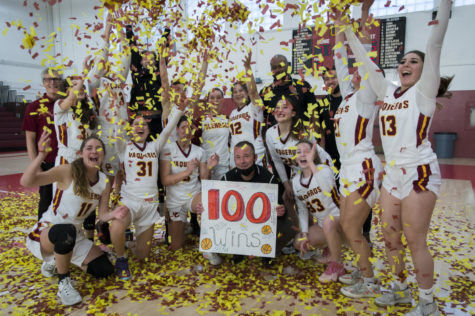 With this victory, the team has an overall game record of 19-5 and a Western State Conference Southern Division record of 10-2. Alex Leon stated, "Glendale will have a week to potentially play two games postponed by COVID against Ventura College … and El Camino …. The pairings for the Southern California Regional Playoffs will be released on the weekend of Feb. 26-27 and [based] on their ranking and conference championship, the Lady Vaqs stand a strong chance of hosting a home playoff game the following week."
To learn more about GCC athletics, visit:
https://gccathletics.com/landing/index
Jacqueline Kamei can be reached at [email protected].