Lakers' Quest for Championship Banner 18
Los Angeles survives the Play-In tournament to make the NBA playoffs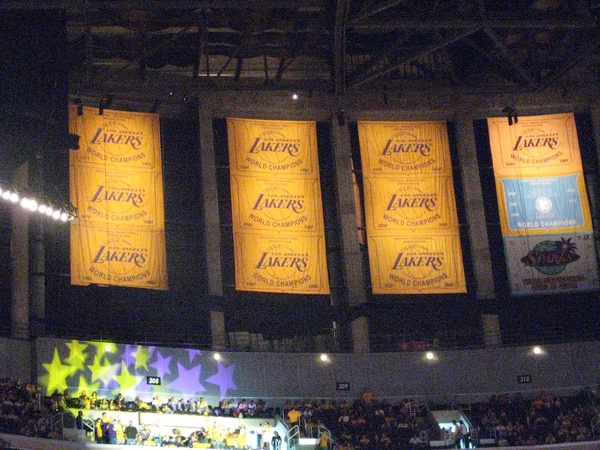 The Los Angeles Lakers begin the defense of their NBA title against the Phoenix Suns after advancing to the playoffs as the No. 7 seed by defeating the Golden State Warriors.
The defending champion Lakers, led by LeBron James and Anthony Davis, entered this year with only a 72 day offseason, the shortest in NBA history. With such little time for rest and rehab, the Lakers' most substantial concern for the 2020-21 NBA season was going to be injuries. This became evident when James missed 27 games, and Davis missed 36 of the 72 games in the shortened season.
Without their two stars, the Lakers stumbled down to the seventh seed in the Western Conference, placing them into the Play-In tournament. The Play-In tournament has the No.7, No. 8, No. 9, and No. 10 seeds participating in both conferences. The No. 7 seeds host the No. 8 seeds, with the winners becoming their conference's official No. 7 seed. The losers then play the winner of the No. 9 vs. No. 10 seeds to secure the final playoff spot.
The Lakers faced the No. 8-seeded Warriors on Wednesday to decide who would play the Suns in the first round of the playoffs.
In what was considered by many to be the game of the year, the Lakers, behind James' triple-double performance, overcame Steph Curry's 37 points in a 100-103 victory. With just over a minute remaining in a tie game, James made a three-pointer from near half-court to seal the win.
The Lakers will now play their division rivals, the Suns, in a seven-game series. The Suns won the season series against the Lakers, 2-1. The Suns have been one of the biggest surprises in the NBA this season, led by a perennial all-star in Chris Paul. However, the Lakers, when healthy, remain a top favorite to not only make the finals but to win it all.
Injuries have been the story of the Lakers' season, and it has stunted the full potential of the team. They never got into the full flow of things and seemed to be playing with some rust. Regardless, their veteran presence and leadership provides the Lakers a chance to make another deep run in the playoffs. Their biggest competition would be the basement team in Los Angeles, the Clippers, and the Brooklyn Nets.
The win against the Warriors could give the Lakers the spark they need to dominate the playoffs for a second straight season.
Winning back-to-back championships has been a historical pattern for the Lakers, and, in honor of that legacy, they are seeking championship banner No. 18 to hang in Staples Center.
Eric Hayrapetian can be reached at [email protected]