GCC Track Athelete Competes in Special Olympics
Paul Kim finds his stride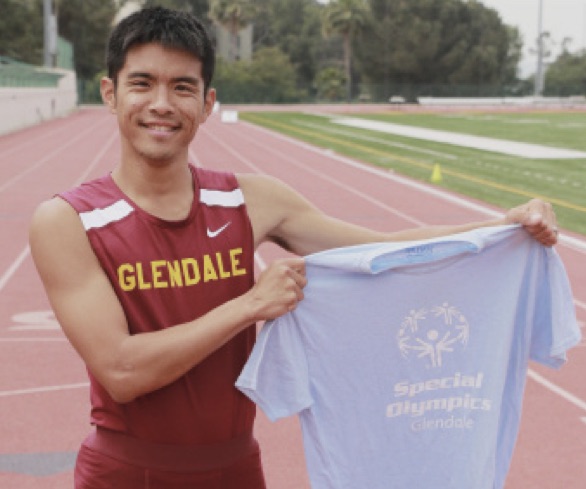 Getting a quality athlete for any team is common to come by. These athletes could be strong, tall, smart and a great students, which define what a true great athlete means. But what if some of these qualities were challenged by something uncontrollable? Would you still recruit the athlete? In this case, the coaches for the Glendale Community College Men's Track and Field team took a chance on him.
Everyday is a good day for Paul Kim. He enjoys his classes at Glendale College and might go for a leisurely run if he feels like it now that the season is over for the track and field team. If he happens to pass a mirror, he is reminded yet again about the disease that he lives with but he does not let it define him as a human being.
For Paul, establishing friendships was a major priority in his life. He found people that would stick by him through thick and thin but some people decided to make fun of him and hurt him but that didn't stop him from just living his best life.
About 10 years ago, Paul was introduced to track and field with the "FAX" program, at a school with the purpose of providing help for special needs kids. This is where the love of the events came to be as he joined the track and field team at the school. This is where he fell in love with the sport.
After graduating from the FAX program, Paul attended Glendale High School. This began his time in the Special Olympics track & field. Unfortunately, he never participated in school track & field again until his senior year of at Glendale High when many of his friends encouraged him to try and compete. This was a big challenge for him but he overcame his fear and persevered and made the team his senior year. His nerves and fears stayed with him throughout his season as he ran against other great athletes in his lone year on the team.
"It was tough, like really really tough." Exclaimed Paul when asked about how competition was in high school track and field.
As his senior year came to an end, he found himself only participating in the special olympics. It wasn't until a Special Olympics event that one of the GCC Track & Field coaches noticed his ability and talked him into joining the team at GCC.
"I was at a Special Olympics practice here at GCC then coach Thomas [Aguirre] saw me run and he said wow that guy is fast. So about two years ago he asked me to join here and I had to think about it for a long time. I was nervous and to think it was harder than Special Olympics and that there were a lot of people that were faster than me and I didn't really know what to expect." Stated Paul about his recruitment onto the GCC Track & Field team.
This was the pinnacle of his career as an athlete. He achieved his ultimate goal of being a college athlete despite all the hate, regardless of the doubt, Paul Kim made it. He was able to say he was a college athlete and competed at one of the highest levels. Unfortunately, for Paul this was the end of his time with Track and Field. He put his blood, sweat, and tears into every meet he competed in and he never looked back. Paul had the heart of a champion and he was more than just an athlete.