Top Five Sports Movies
Stream these all-time favorites on Netflix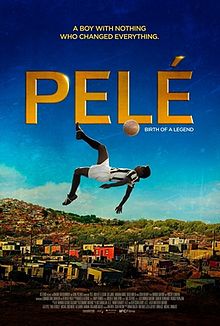 Hang on for a minute...we're trying to find some more stories you might like.
Sports films are about the human experience and perseverance; whether it's about the kid who comes from humble beginnings and fights his or her way to the top, or about the boxer who defies all odds, they force the audience to take notice. Regardless of the perspective these movies are told from, fiction or nonfiction, people watch them because they find entertainment and inspiration. Here are the top five sports movies on Netflix.
"Pele: Birth of a Legend"
While some of us lack knowledge on soccer, many know about one player by the name of Edson Arantes do Nascimento. Otherwise known as Pele, he played for the Brazilian National team. He is often regarded as one of, if not the best, soccer player of all time. In an effort to get a better understanding of what made Pele great, "Pele: Birth of a Legend" sheds light on his story from his early life to the 1958 World Cup, where he made his debut in the FIFA World Cup. We learn a lot about the Brazilian icon, including how he earned the nickname "Pele." Despite growing up in poverty and not having access to equipment the rich kids had, Pele overcame hardship with his determination and his love for the sport. An inspiring tale, "Pele: Birth of a Legend" is certainly one of the more underrated films on Netflix.
IMDB: 7.2/10
My Score: 3.5/5
"Secretariat"
Based on the real life of a thoroughbred racehorse, "Secretariat" is an inspiring and heartwarming story. Set in the 1970s, the film recounts the life of Penny Chenery, (portrayed by Diane Lane.) Chenery inherits her ill father's farm of horses that are bred for racing, despite having a lack of knowledge on the matter. At her side is horse breeder, Lucien Laurin, (portrayed by John Malkovich), who helps guide her through the business. Complications arise as she needs to come up with the money to pay estate taxes on her late father's estate. With the sudden arrival of a horse that has a lot of speed, Chenery sees this potential and oversees the training of Secretariat, also known as "Big Red," who eventually became the first Triple Crown winner in 25 years. Secretariat is a feel-good movie for everyone and gives everything a person would hope for from a Disney drama.
IMDB: 7.2/10
My Score: 3.9/5
"42"
"42" centers on the life of American baseball icon Jackie Robinson, portrayed by Chadwick Boseman. The film also stars Harrison Ford as the general manager of the then Brooklyn Dodgers, who broke the Major League Baseball's color barriers by signing Robinson. The film explores racial prejudice in the 1950s and gives the viewers an idea of the kind of treatment Robinson had to endure throughout his career. Dealing with hate from audiences, other teams, and a few of his own teammates, Robinson showed immense restraint and perseverance by not allowing any of the negativity to affect his performance or behavior, as he knew that any altercation could possibly ruin his future. Boseman and Ford both give outstanding performances in their respective roles."42" is a clear indication of racism and prejudice that existed in the 50s.
IMDB: 7.5/10
My Score: 4.1/5
"Miracle"
In the 1980 Winter Olympics, a young and inexperienced United States men's hockey team beat the Soviet Union, a team which was heavily favored by fans and four-time defending gold medalist. This became known as the "Miracle on Ice." The movie does an admirable job of recreating one of the biggest upsets and greatest moments in sports history. It also focuses on the man who coached this team to victory, Herb Brooks. While the U.S. captured the gold medal after they defeated Finland two days later, the silver medal goes to Kurt Russell who delivered a phenomenal performance as coach Brooks. The film is superb when recreating the hockey scenes too. "Miracle" is a beautiful retelling of the hard work and dedication that was instilled in the team as they went for the gold medal.
IMDB: 7.5/10
My Score: 4.7/5
"The Fighter"
Arguably the best boxing movie since "Raging Bull," "The Fighter" is perhaps one of the better known movies of 2010 as well. The film focuses on the real-life story of former boxer Micky Ward, (portrayed by Mark Wahlberg), and his rise to the top, as well as his struggles with his family. "The Fighter" was nominated for seven different categories, including best picture and best director. Not many movies receive many Oscar nominations for no reason, unless it's "Black Panther." The film also stars Christian Bale as Ward's drug addict brother and trainer, Dicky Ward who was once a promising boxer. Melissa Leo depicts their domineering mother, Alice Ward who happens to be Micky's manager as well. The excellent performances of Bale and Leo earned them Academy Awards for best-supporting actor and actress. The film itself has a few clichés, but it's an entertaining watch and holds the spot as one of the best boxing films of all time.
IMDB: 7.8/10
My Score: 5/5