Hoop Dreams
Basketball player Serigne Athj talks about the struggles that have lead him to this point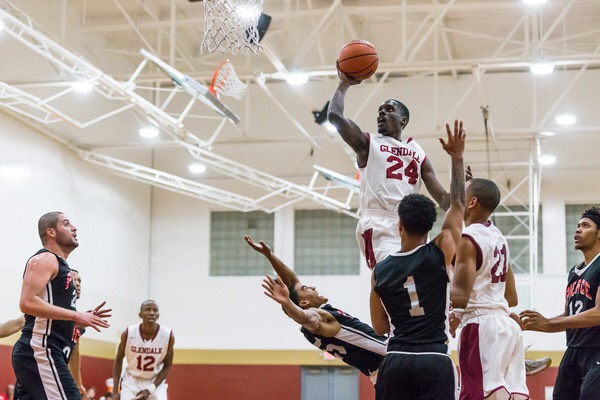 Before expressing to you the life of a young man born into adversity, I must begin by defining the word struggle – to strive to achieve or attain something in the face of difficulty or resistance. Difficulty, a term that Serigne Athj, a 20-year-old student-athlete of Glendale Community College, has come to know all too well.
At first glance you think you see rage in his eyes. His chin is held high with pride and shoulders broad as if to give off the radiance of ruggedness. These characteristics are often seen in those who live in the "Jungles," a nickname of the Baldwin Village neighborhood on the intersection of Rodeo Road and M.L.K Boulevard.
One of the birthplaces of the hip-hop movement, flashpoint of racial riots and disenfranchisement. But in reality, he can better be explained for his adaptability and intelligence.
Athj's story is much more than just a ball and a dream. In coming to learn about the circumstances he has endured in life, I could not help but to feel admiration.
At the age of 10 years old Athj's mother died abruptly from a heart attack, a surprise to any young person but especially one whose relationship with his mother was described by him as an "unbreakable bond."
As a boy, Athj had promised his mother that he would make it to the NBA and buy his parents a big house, retire his father from work, take care of his little brothers and sisters, and his aunts and grandparents. To each of which he gives credit for raising him. It's not difficult to see that he's a family man.
"I want to take care of everyone that has taken care of me," Athj said. "My family, and the people that have stayed loyal and true to me throughout my life." The word "familia" is tattooed across the side of his neck to remind him who he does it for.
Unfortunately, the high school years that followed held many trials. He dealt with depression, mourning the losses of family and friends.
Across an eight month span of his junior year in high school he lost four people he held dear to him. His best friend passed due to intoxication, his uncle by stroke, and two other close friends passed in the same car accident at which the only survivor was the driver of the truck that hit them.
Concealing the emotional whirlwind these losses brought him, the headstrong young man found refuge in the gym and aimed his problems in a more productive direction.
Relentlessly, he lived in the gym, spending a significant amount of his free time in the place he considered his home. But the gym is only there for so long, eventually we all have to actually go home.
His father remarried years after the passing of Athj's mother, and the relationship between Athj and his stepmother rapidly became an issue.
After circumstances made it too hard to bear, 16-year-old Athj moved out. He bounced around for the rest of his high school career, staying on his teammates' couches and floors, wherever he could rest his head for a night.
During this time Athj found himself slowly becoming a household name. He was placed on the ESPN top-100 list for juniors in California and received heavy favor from high-level schools such as Saint Marys, San Diego State and University of Washington, to name a few.
But good fortune had a way of passing, as during a late night game against Fairfax high school, Athj suffered a injury to his shoulder which cut his season short. A shoulder that wouldn't be the same, he re-injured that same shoulder the following season which took him out of the recruiting eyes of a lot of colleges.
Cal State San Luis Obispo was willing to take the chance on the young prospect until he suffered a similar shoulder injury, this time to the opposite side. After having to medically redshirt, Athj was let go from the Cal State SLO program.
Months later, coach Vigen Jilizian of the Glendale Community College program and Athj came into contact, and Jilizian brought him on board. During his two-year stint here, he has been awarded All-Conference honors twice, along with placing himself in the record books after a 44-point breakout game his freshman campaign where he made 22 free throws.
Athj had now crossed a barrier many black kids wouldn't have found their way to: he was now a college athlete. Nationally, black men make up 2.5 percent of undergraduate students, but make up 61 percent of college basketball teams, according to Sporting News.
Athletics is a not only a tool, but an opportunity many African Americans from low-income cities use to further their education and obtain a degree.
During this time, Athj had found stability in the home of his 27-year-old cousin, in the "Jungles." His relentless pursuit of his basketball career has earned him high praise from coaches and admirers.
Coach Vigen regards him as a "unique kid who handles himself with great professionalism."
Through all Athj has endured his dream of making it to the NBA has not faded, he still is in pursuit to overcome all odds stacked against him.
He has some big goals if he gets there. "I want to change the lives of children much like myself who grew up in hardship," he explained. "I want to give back to the communities I grew up in – Pasadena and LA – give the youth the ability to chase their dreams."
If you happen to notice him around campus, don't be afraid to walk up to him and ask him about his life story, he's very open to sharing his journey.
After all, it's not merely what we go through that defines us. It's also what we grow through. Athj will be playing at the University of California, Los Angeles next year, where he will continue his education and work toward a bachelor's degree in Business Administration.
Christopher Daniels can be reached at [email protected]