It's a Draw For the Vaqs Against East L.A.
Glendale College men's soccer team's Sept. 19 bout against East Los Angeles College ended in a 2-2 draw.
The undefeated Huskies came into Sartoris Field on a hot streak, averaging just over three goals per game across the early portion of the season.
Coach Laura Matsumoto's team was unfazed. "I told the team to forget about ELAC's record and to focus on what we needed to improve upon from our earlier games," she said.
The game with the Huskies was one characterized by swift tit-for-tat goals sandwiched by extended scoring droughts.
After trading multiple shots on goal with neither team sneaking one in, the fireworks finally kicked off by the 35-minute mark via free kick from Glendale's Fabricio Bonilla, his second goal of the season.
East LA's explosive offense quickly marched down field in response to Glendale's goal, which was decelerated by a foul on Glendale.
The stop in play may have lulled Glendale goalie Alexis Guzman to sleep. He found himself slightly out of position as an East LA free kick sailed over his outstretched right hand to the top-left corner of the goal in the 33rd minute.
This equalized the score to a count of 1-1 as the teams broke for halftime.
In the 60th minute, Kevin Rodriquez of East Los Angeles got a shot past Guzman to up the score to 2-1.
The Vaqs wasted no time with landing a counter-punch, though. In the 61st minute, Glendale's freshman midfielder Makan Afzail lobbed a kick from the right corner over the head of East LA's goalie Luis Angel Alvarez, which brought the score to 2-2.
The trajectory of the kick fooled Alvarez, as the ball hung in the air for an unusually long time before bouncing off the right upright of the goal and into the net.
Glendale spent the remaining minutes on their heels with an aggressive East LA offense pressing for another goal in hopes of sneaking out of Glendale with a victory.
Four additional shots were taken by East LA before the clock hit triple zeroes, but none of those could hit their mark.
The teams would head back home with another knock in the 'tie' column.
The bogging down of East LA's offense can be credited to the gameplan of Vaquero head coach Matsumoto.
"We worked on defending set pieces (corner kicks in particular)," said Matsumoto in a statement via email, "game management (paying attention to the momentum of the game, and the score in relation to the time on the clock), and maintaining our defensive and attacking shape."
Glendale goalie Guzman had six saves in eight shots on goal, including a few that required him to flatten out in full extension.
The tie brought Glendale College's record to 1-4-2 (win-loss-tie) overall. The Vaqs are averaging a goal-and-a-half per game.
Next up on the schedule is Pasadena City College, which will be played on Friday, Sept. 22. Pasadena is 1-1-2 overall.
"In preparation for PCC – any team for that matter – we will continue to focus on improving our scoring opportunities and finishing," said Matsumoto, "as well as pushing to keep up our intensity level consistently."
Ken Allard can be reached at [email protected]
About the Contributor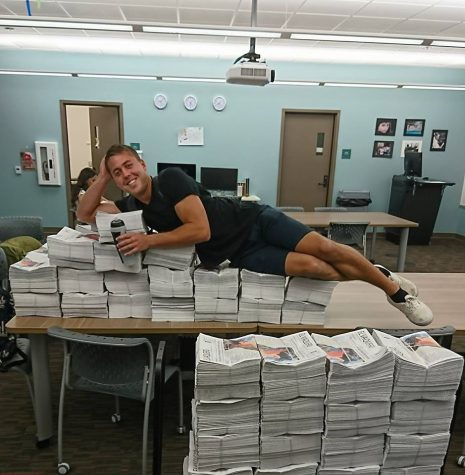 Ken Allard, Editor-in-Chief
Ken Allard is a Los Angeles native and is in his fourth year at Glendale Community College. He enjoys covering hard news, politics, feature stories, sports,...