GCC Alumn Lands Spot in Mexican Minor League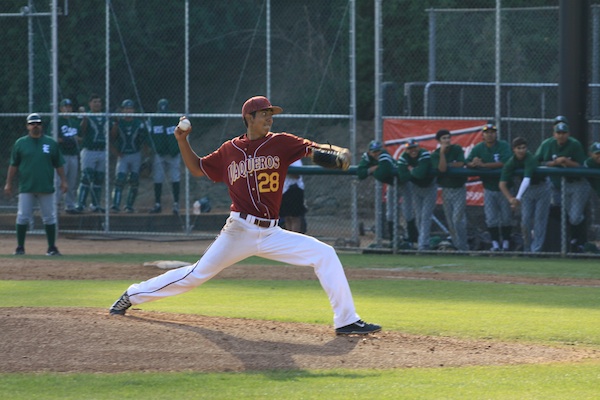 From the moment Angel Rodriguez, 23, stepped onto Stengel Field, he knew where he wanted his life to take him. Baseball is his passion and like every baseball player who has ever played the ultimate goal is making it to the big leagues.
After getting his start at GCC, Rodriguez played at CSUN, got a few starts for the Tampa Bay Devil Rays minor league team and now has signed a minor league contract with the Mexican triple A team Pericos de Puebla.
"It's a great feeling knowing all your hard work and dedication is being looked at," he told El Vaquero, "but it's definitely much more work that's needed to be put in once you do get that opportunity.'
Rodriguez is someone who can't get enough of the game and who's talent allows him to keep on finding opportunities to play. He credits GCC for helping along.
"Going to Glendale was definitely the smartest decision I could have made at that time," said Rodriguez.
When he joined the Vaqueros baseball team in 2012, Rodriguez recorded a strong 2.00 ERA for two years, helping the Vaqueros to back-to-back conference titles.
After transferring to CSUN Rodriguez continued to perform on the field, and in 2016 he put up excellent numbers. He made 18 appearances, had 70 strikeouts, and posted a 3.07 ERA.
He was signed to a minor league contract by the Devil Rays in 2016 and posted an ERA of 3.00 in 21 innings, but was released later that year. Not too long after Rodriguez signed with the Pericos de Puebla.
As Rodriguez continues to progress as a player, he sets his mind on those around him.
"My ultimate plan, as I've always said before any of this was possible, was to have the ability to give back," he said. "Being able to give back and pass down anything and everything I have learned along the way. Be able to give advice to those who feel that it's not possible. Anything is possible as long as we set our hearts and minds to it".
Rodriguez gave a couple of words of advice to any baseball player looking to reach the heights that he's reached.
"Don't try. Simply just do.," he said. "That's what I told myself with my time at Glendale and I still do. Don't say you are going to try to do something or tell yourself that you are thinking of trying something new or say you are going to be a better student. Don't try, don't say it, be a better example of a man who just does his work the right way."