Vaqueros Tennis Teams Bring Home the Gold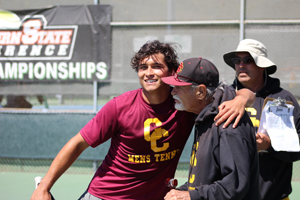 Glendale Community College men's and women's tennis teams had a busy day at the Western State Conference (WSC) Championships.
The finals were held April 14 at Ventura College where eight different Vaqueros and Lady Vaqueros hit the court in a combination of singles and doubles tennis action — bringing home a pair of championships while narrowly missing out on a third.
Freshman phenom Christian Hess won the first championship.
Hess faced off against Bill Whitaker of Ventura College in the WSC men's singles championship match, breezing by him with relative ease to a count of 6-4, 6-2. "I was happy for Christian when he won." said men's tennis Assistant Coach Jason Bender. "He works very hard, but has been fighting the injury bug with ankle issues. It was nice to see him get through that match healthy, to help set himself up for [the Ojai Invitational tournament]."
The Ojai Invitational is the season-ending CCCAA State Championship Tournament held in Ojai, Calif. from April 27-30.
The second Western State Conference championship of the day was the women's doubles final. The dynamic duo of Veronika Galstyan and Tsukimi Ono matched up against Mayra Jovic and Abby Mullins of Santa Monica College. After starting slow and dropping the first set, Galstyan and Tsukimi found their rhythm, dominating the other two sets to take the match at a score of 6-7(5), 6-1, 6-1.
There was no joyful ending for Glendale in the men's double final. Hess and his partner Chris Pope took the first set against Ventura College's Bill Whitaker and Cruz Thayne 6-4. But the proceeding sets ebbed and flowed between the two teams, with Ventura College coming away victorious. Final tally 4-6, 7-5(5), 6-4.
In the preceding men's singles semifinals, Glendale's Christian Hess vied with Johnny Barcohona of Pierce College, winning 6-2, 6-4.
The other Vaqueros hitting the court were Kevin Orellana and David Preciado in the backdraw bracket. Orellana defeated Ventura College's Sam Gazerra 6-1, 6-0 while Preciado sailed through Ivan Rivera of Bakersfield College 6-1, 6-0. This set up an all-GCC backdraw final, where the winner grabbed the 13th and final slot in the Ojai Invitational.
Orellana defeated Preciado 6-4, 6-1. "It was exciting and I was hoping they both could win but of course that's impossible." said Coach Bender. "Afterwards they both congratulated themselves and remained good supportive teammates of each other."
The Lady Vaqueros singles players had a rough day in Ventura.
Hailey McNall matched up against Mayra Jovic of Ventura College — the top women's singles player in the state.
Jovic defeated McNall in the first set 6-2, but the second set was tightly contested. A back-and-forth showdown nearly resulted in a third set and probable upset, but Jovic held on, defeating McNall 7-6(4) in set two to win the match. Despite the loss, McNall retained a spot in Ojai.
GCC's Melody Emmanouilidi lined up across court from Kaylee Defrees of Bakersfield College. After winning the first set by capitalizing on early mistakes by Defrees, Emmanouilidi lost her groove and the subsequent sets. Final tally of 2-6, 6-3, 13-11. Emmanouilidi did not qualify for Ojai.
Veronika Galstyan also failed to grab a spot in Ojai as a singles player. Galstyan lost to Sabrina Subero of Santa Monica College 6-2, 6-0. Galstyan and Tsukimi qualified for Ojai in women's doubles.