Vaquero Men's Tennis Pushing for the Playoffs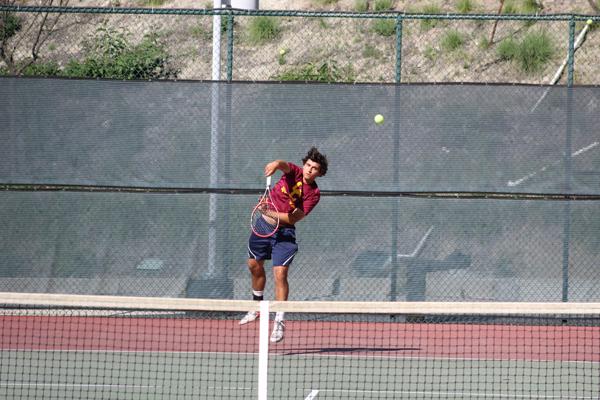 The Glendale College men's tennis team has been on a hot streak as it looks to make a push for the playoffs.
With two matches left in the season, the Vaqs hope to make a strong finish to bring a championship home, high expectations from coach Bob McKay.
"Obviously I want to win our remaining league matches and then hopefully get a wildcard into the playoffs," said McKay..
Glendale scored dominating wins over Santa Barbara College 9-0 on March 16 and Victor Valley College 8-1 on March 14. The Vaqs dropped a match to New Mexico Military Academy 6-0 on March 15 in a special pick-up match.
"We have a super deep team so basically everyone can play in every spot," said player Chris Pope. "We have our number one singles player, super solid. I play the two spot and I can play at the one spot and handle it and the same with our number three player,  just a lineup of number ones."
Last years team went a disappointing 4-9 overall and 2-6 in conference. So this year's much improved with a 10-4 record overall and 5-2 in conference.
"This year's team, besides having better players, I think we work harder and our team comradery is also better," said Pope.
Both losses were to Ventura when the team just fell short.
"They've been sensational," said Mckay. "We got a good record we lost two sensational games to Ventura, but were still in the race."
He also touched on the team's record.
With only two games remaining in the season the question remains can the Vaqs get it done in the playoffs and bring it home?