Vaqueros Lose a Squeaker – Owls Win in Final Seconds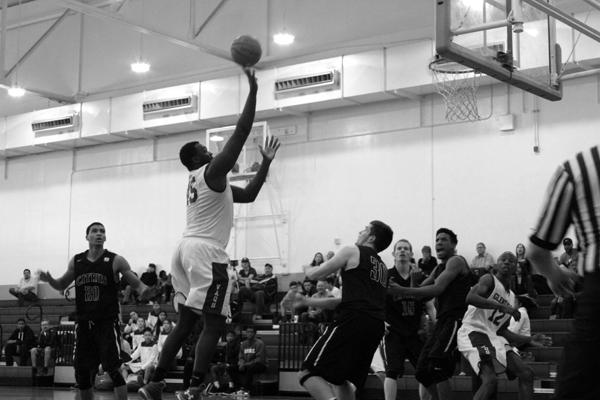 The Vaqueros men's basketball team lost to Citrus College Saturday afternoon in a game that went down the wire. The two Western State-East conference teams came onto the boards tied at 1-1 in conference play, but the Owls persevered, taking their team to second place in the division, while the Vaqs dropped to fourth.
Turnovers plagued the Vaqueros throughout the game with a total of 19 to Citrus' 10. Though Glendale had a much higher field goal percentage,  the deciding factor was the Owl's 13 3-pointers.
All of the Vaquero starters scored in double digits, yet it wasn't quite enough to pull off the win. Center Ange-Michel Kuo posted up throughout the game and kept Citrus out of the paint, but defending the long shots from behind the 3-point line proved nearly impossible.
The Vaqueros struggled in the first half, but came back strong in the last eight minutes of the game, taking a the lead with just two minutes to go, but after a turnover and a few fouls, the Owls came back to win it with an insurmountable 3-point lead at the 1.5-second mark.
The Vaqs, now 11-9 overall, travel to L.A. Valley College to face the Monarchs tonight at 5 p.m. and will play Antelope Valley at home at 3 p.m. on Saturday.