Vaqueros Conquer El Camino Warriors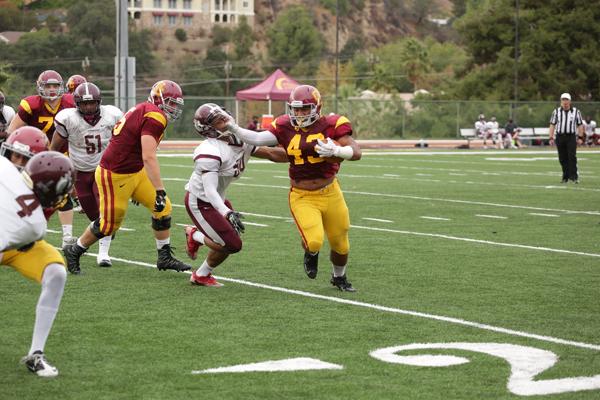 The Vaqueros dominated the El Camino Warriors/Compton in stunning fashion in their last home game of the season as they racked up 500 total yards in a 61-6 win.
For the first time this season Glendale rushed for over 325 yards and gained 175 yards through the air.
The Warriors allowed four GCC players to rush for over 60 yards and five scores.
Glendale forced El Camino to be a one-dimensional team as they stopped their running game allowing a mere 44 yards on 17 attempts.
Vaqs quarterback David Arriaga completed 10 of his 15 attempts and threw for two touchdowns, which came toward the beginning and endof the first and second half. He also carried the ball for 66 yard on nine rushes.
Running backs, Darius Jones and Torrence Brumfield, both carried the ball for two scores on 16 attempts each. Brumfield averaged over four yards a carry as he gained 76 yards on the ground. Jones averaged 5.1 yards per carry for a total of 81 yards.
GCC had its fourth consecutive game where they have averaged at least four yards per carry and their blowout win last Saturday against LA Southwest was their third straight game where the Vaqs have rushed for over 200 yards.
Arriaga is ranked fourth and fifth in the American Metro conference in yards per game with 102.5 and number of touchdowns thrown, eight.
Brumfield is ranked third in rushing yards per game with an average of 69.6 yards and he is ranked fourth in rushing touchdowns with six.
The defense has allowed an average of 21.2 points per game, which is ranked number one in the conference. The Vaqueros have allowed the fewest points in nine games, 191 and they have gathered the most interceptions in their conference.
Glendale's final game is Saturday at East Los Angeles College.