Vaqueros End Season in First Round of Playoffs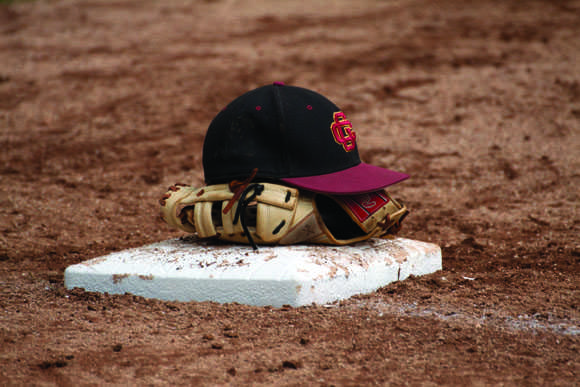 Under a cloudy sky with rain hanging in the air there was not a dry eye on Stengel Field after the Vaqueros took on the Fullerton Hornets on May 7.
For the second day in a row the Fullerton Hornets claimed victory after comebacks and late-inning scores. The first game ended 4-3 in favor of Fullerton after going to 13 innings on May 6.
Instead of traveling back to Fullerton, the Hornets started as the home team at Stengel Field in Saturday's game. After only five pitches Vaqueros third baseman Frank Garriola sent a home run off the top of the fence. "Frank set some sort of tone to the game," Head Coach Chris Cicuto said.
In the bottom of the first Fullerton's Justin Row made the score 1-1 moving to second where Vaqueros Zach Mausser singled and Ricky Perez could make the score 2-1 in favor of the Vaqueros.
The game trailed on until the bottom of the eighth when Fullerton's Kevin Foley stepped up to the plate with the bases loaded and hit a double RBI sending Josh Balbuena and David Miranda home, making the score 3-2. The Vaqueros still had a chance to get back in the game, but fell short and the Fullerton Hornets came out as winners.
When heading into the last week of the regular season Fullerton was likely to be the number two seed, but they had to forfeit 12 games, due to the use of an ineligible player. When the Southern California division bracket was released there was some discussion on whether Fullerton should have actually played against Fresno College instead of the Vaqueros in the first round.
"It was unfortunate for us, but we have to beat them at some point," Cicuto said.
The team was clearly impacted by the loss, which ended the season for the Vaqueros, but looking back it has been a good one with 28-10 overall.
The Vaqueros typically keep their spirits high after a tough game. This time, there were tears streaming down their faces, followed by kind words and hugs. One chapter is coming to an end and another one is beginning since 15 men on the roster are sophomores and will be transferring out in the fall.
"Some guys have been here for two, three and four years," Cicuto recalled. "Those are the relationships we're going to miss."
Now the work for season 2017 starts with recruiting new players.
"We are pushing forward to keep on getting better to win that State Championship," Cicuto said