Vaqueros Close Season with a Tough Loss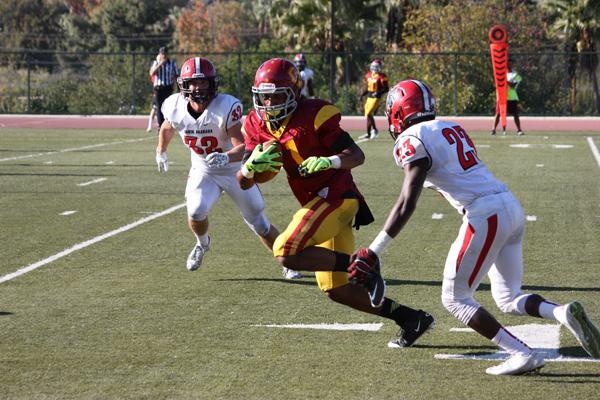 A missed extra point in the second quarter told the tale in a one-point loss to Santa Barbara on Saturday in the last game of the season for the Vaqueros.
The Glendale Vaqueros came out strong against the Santa Barbara Vaqueros in the first quarter with a 72-yard run by running back Josh Martinez about two minutes into the game for the score.
A few minutes later running back Robert Jones took one in from the 3-yard line. The Vaqs led 14-0 at the end of the quarter.
Quarterback David Arriagi took one across the goal line early in the second quarter, but the missed kick would turn out to be the losing point in this close game here at Sartoris field.
Santa Barbara came back with 21 unanswered points until Travis Custis ran for 36 yards and a TD in the third.
After Santa Barbara scored again on a 27 yard pass to J Sharsh, Glendale stayed in the game with another long run from Custis. The Vaqs leave the third quarter ahead by 33-28.
It looked good for Glendale as Arriagi connected with Nico Cantos for another TD in the early fourth quarter, but the Santa Barbara team came back with two more TDs and the win by just one point 40-39.
The Glendale Vaqueros end their season 3-7 and the Santa Barbara Vaqueros 5-5.