Trautmann's Future Forecast Looks Bright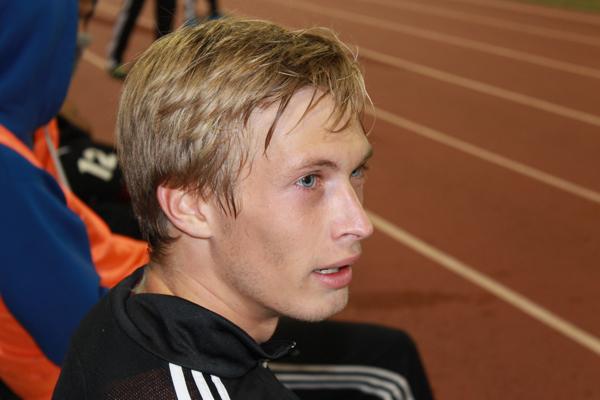 Even if it's only a brief encounter with Max Trautmann it's not difficult to see what all the hypes about. He's respectful and warm with an engaging personality that makes him an person easy to connect with.
He puts on a class act and his hard work and dedication are helping him to achieve his goals on and off the field. His friends and family find him to be an exceptionally caring, understanding, charismatic and funny guy. He has a tremendous sense of loyalty to those he cares about and his mother said it's obvious in the way he treats others.
"He would do anything for any one of his friends or family, he's my happy boy; though he doesn't keep his room clean," Kit Bowen said of her son. "He's also one of the most positive people I know with an exquisite sense of humor."
This may be due in part to the fact that his parents met at an improv group. His mom, an entertainment journalist and movie critic, could be found on stage all the way through her ninth month of pregnancy with Max.
According to his parents, one of his first outings as an infant was to an improv show. "My family frequently jokes around making funny voices and sounds just to get a laugh," Max said. "We are a very weird family."
His father, Steve Trautmann, was a goalie and Max's soccer coach. They traveled extensively for away games and tournaments. Max said his father is the one person he can say anything to, he's the person he goes to for advice and relishes their father/son bond.
"Max is an analytical yet passionate player, he has great vision, he sees soccer almost as a chess game," Steve said. "He was also a referee at a very young age. He was only 13 when he was threatening parents with an ejection if they stepped on the field."
Steve said his son "is an extremely fair person" and referred to him as having a "well developed sense of justice."
Both of his parents are supportive and can often be seen in the stands cheering their son on at many of his games.
Trautmann, from Burbank, California, has been playing soccer since his youth. He is in his sophomore year at Glendale College and plays both the forward position and right mid field on the men's soccer team. He is the second leading scorer this season with 4 goals to date.
He is currently nursing a split top lip after colliding with the opposing team's goalie during a recent match. This is all part of the game, injuries occur and players have to shake it off and carry on. "There was a lot of blood initially but I got cleaned up and returned to the game." Max said.
"My favorite soccer player is Steven Gerrard, he is the definition of loyal," Max said. "He played with the same club for his entire career until leaving to go to the LA Galaxy this summer."
Trautmann is well respected on his team by both his coaches and teammates, they sing him praises when asked about his performance and what he brings to the team.
"Max brings an unselfish presence to the team." Coach Laura Matsumoto said. "He's consistent and always goes 100 percent. He adds a "gelling" factor to the team, especially during difficult times."
She said she appreciates what he's done for the team over the last two years. "Max is a great student athlete and all around player," Victor Carrera, Assistant Coach, said. "He has a great impact on others on and off the field."
"He doesn't give up on any ball," teammate Eduardo Lopez, who plays right full back, said. "He's always looking to score."
"I wouldn't call him just a teammate, he's more of a friend on and off the field," Erick Trejo, who plays forward, said. "Since the day we met he's been one of the nicest, most genuine people I know."
"I tried to be an actor right out of high school and got a couple of small Nickelodeon parts, but nothing big," Max said. "Also, I did duo stand up comedy routines with a friend and we wrote original songs, but then had to split up for career choices."
Trautmann intends to transfer to Cal State Northridge because they have a strong soccer program that he hopes to be part of.
"My career goals are to become a sports journalist and hopefully, at one point, a soccer coach. I've always seen myself teaching kids something so why not soccer? Do what makes you happy."
According to Bowen, family is important to Max and he has a great bond with his sister whom he adores. They were born a few years apart, however, the difference in age does not affect their close relationship, Max is the consummate big brother.
"It warms my heart to see the relationship he has with his younger sister Livvie," Bowen said. "He is her confidant, she'll go to him before me if she needs someone to talk to, they're best friends."
Mark Nassim said he met Max in high school, they share a mutual respect for one another and have been friends ever since. "It's the kind of friendship where even if we don't see one another for a couple of weeks, it's as if no time has passed by…we're on the same page," Nassim said. "I think he's an all around good guy, I see him as a friend for life."
Max spent some time reflecting on what the perfect day is in his eyes.
One of his favorite ways to spend the day is to play a game of soccer in the morning and then eat some Flame Broiler, one of his favorites, (he also holds a good pizza in high regard), followed by some video games, either FIFA or Halo.
Afterwards, he likes to relax and watch Netflix with his girlfriend Jenni. "Also, I really like to be active so once a year I try to go backpacking because I love nature or I like to play Trampoline Dodgeball at Sky Zone and play basketball," Trautmann said.
Jenni Bowers 26, has been in a relationship with Trautmann for just over a year and sees him as her soulmate. "This is the most loving man I've ever known and we complement one another very well." Bowers said. "Though he's three and a half years younger, he has such a passion in his eyes and he's such a good listener. He's driven, supportive, and off the market."