Santa Monica Corsairs Sink the Vaqueros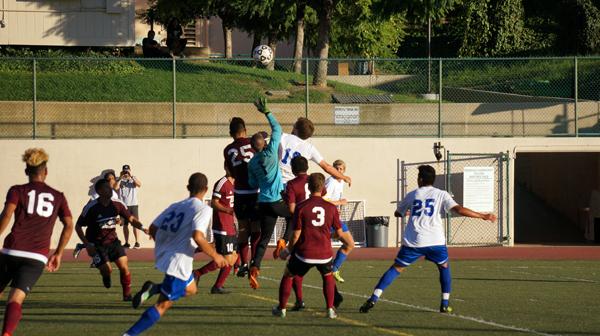 The Vaqueros were defeated by the Santa Monica Corsairs 5-1 Friday, Oct. 2 at Sartoris Field following a 2-0 win against Santa Barbara on Tuesday, Sept. 29.
Glendale's Ivan De La Torre scored the first goal, driving Santa Monica to ramp up their offense. The Vaqueros battled hard for the ball, but the Corsairs scored next. They also scored the third goal of the game, which frustrated the Vaqs and their fans.
Both teams played a very physical game, with two yellow cards handed out. Claodio Maaloof of Santa Monica received one in the first half, and De La Torre received one in the second half, both for persistent fouling.
The momentum of the game shifted in favor of Santa Monica when they scored two goals within a minute near the end of the first half. The Vaqs were unable to respond before the game went into halftime.
The second half was scoreless for the Vaqs, though Santa Monica's Gabriel Torres managed to get a final goal.
Following the postgame handshake line, players from both teams returned to the field to applaud the fans in the stands, who shouted encouragements to the Vaqs.
The players and the coaching staff all seemed to think that the big win against Santa Barbara affected their play on Friday.
"We suffered from 'early-goal-itis.' We got one, we got too confident, and we forgot that we had to finish out the rest of the 85 minutes left in the game," Coach Matsumoto said. "As soon as that mentality sunk in, things started to fall apart and we just couldn't crawl out of the hole."
The Corsairs held the Vaqueros at bay with a total of 10 shots on goal keeping the defense on their toes.
"Today we just didn't come out to win. We came off a really good win against Santa Barbara and I felt like that momentum enough was gonna get us this win, and it just wasn't enough," De La Torre said.
"We didn't play badly, we just lost our heads after they got the PK (penalty kick) and the second goal right after," second-year forward Max Trautmann said.
Despite the disappointing loss, Trautmann remained confident in the team's abilities.
"This team is way better than last year. As a team, as a whole, we are coming together," Trautmann said. "Even though we lost today, we bounce back really well. If we are able to get our game focused, we can beat any of the teams in this league,"
Glendale's current season record is 4-4-2. The Vaqueros face the Moorpark College Raiders in an away game on Oct. 6.