Lady Vaqueros Say Improvement is on the Horizon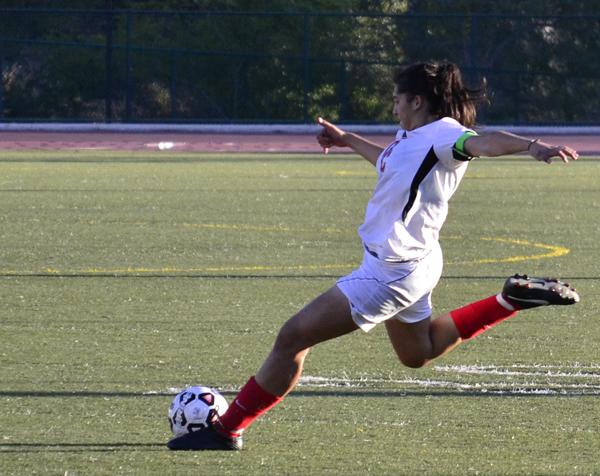 The Lady Vaqueros fell to LA Harbor this Friday at Sartoris Field, their second loss in a row.
The Seahawks opened up the scoring early in the first half. At the eight minute mark, center forward Casandra Reyes knocked one into the net. The Vaqueros seemed to have trouble shaking off the Seahawks' attackers, and remained in a defensive position for most of the first half.
Tensions began to rise at the end of the first half, when Seahawks midfielder Daniela Martin took Vaqueros forward Elizabeth Segoviano down hard. Segoviano shook it off, but a few minutes later, the Seahawks' physical style of play wound up again.
When Vaqueros goalie Courtney Campbell dove for the ball, Chelsea Ruiz of LAHC ran her over, causing an immediate reaction from Campbell. She insisted on staying in the game, and the first half ended at 0-1.
The second half continued much like the first, with the Seahawks on the offensive. The Vaqueros put up a solid defense, only giving the Seahawks a handful of scoring opportunities.
Aside from one major attack by Elizabeth Segoviano that was thwarted at the last minute, the Vaqueros mostly defended.
The game ended 0-1, with the Vaqueros coaching staff visibly frustrated.
After the game, reserve goalkeeper Crystal Rivera shared her thoughts regarding the performance of the mostly-freshman team.
"We've been working together all summer, but this is only our third game together. We will only get better," said Rivera.
Midfielder Paula Cabrera appeared to feel the same way.
"We played a good game and we connected really well, but we can do more. We can push harder," Cabrera said.
Campbell also commented on the team's progress.
"We've been together for six weeks, so we're a team already compared to a lot of our competition," Campbell said.
Their current record is 0-2-1, after tying their season opener with College of the Desert on September 4th and dropping one against Oxnard College four days later.
Next the Lady Vaqueros face Pasadena City College of the South Coast Conference for the first time in the team's history. Pasadena finished seven points ahead of Glendale in the final standings last year.
They face off against the Lancers in an away game at 3 p.m. on Sept. 22.