Beauchemin to Join Hall of Fame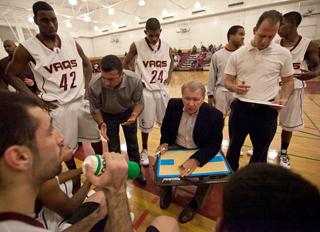 Brian Beauchemin, a pillar of Glendale basketball, will be inducted to the Glendale College Athletic Hall of Fame this October.
Beauchemin was head Men's Basketball coach at Glendale College for 35 years, from 1979 to 2014. He is number three in the state with 592 career wins.
Beauchemin has announced his official retirement after sitting out this past season due to hip surgery.
Even with the pain, Beauchmin guided the Vaqueros to 22 wins and a trip to the second round of the Southern California Regionals during his last season.
In that time, his teams advanced to the Southern California Regional Playoffs 22 times. Six teams reached finals and two teams made it into the elite eight. In the 1980-81 season, under Beauchemin's wing, the team won a conference title.
Before arriving at GCC in 1979, Beauchemin coached at Notre Dame and Valley College.
Beauchemin was inducted into the California Community College Basketball Coaches Association Hall of Fame in 2014 and the Notre Dame High School Hall of Fame this year. He will be inducted into the Glendale College Athletic Hall of Fame on Oct 11.