Vaquero Men's Golf Team On Par For Current Season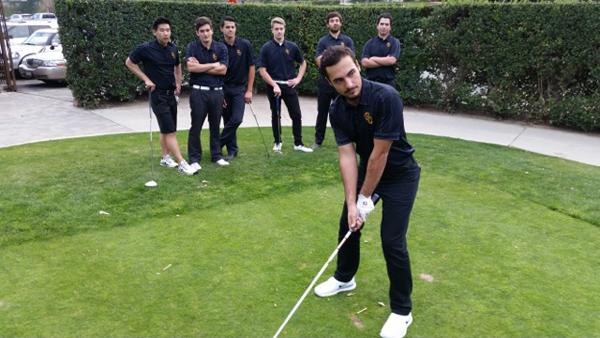 GCC's Men's Golf Team is off to a great start.  "We began this season on a much better note than last year," said Coach Todd Tyni.  This season, the team is "3rd and 4th in the conference standing after the first few matches."
Even with an injured player during the March 23rd match, Tyni, with over 25 years coaching experience, isn't worried.
"I know we can turn it around and hopefully qualify for regionals," he said.  "Everyone on the team is very talented, and I am hoping we can peak at the end like we did last year when we took second at our home WSC match at Oakmont CC and third in our WSC Conference Final."
With an impressive line up, including returning players Tavit Garbarian and Evin Davis, and some promising first year players Robert Eyvazzadeh, Stephen Peterson, Andrew Gowanlock and Nick Diaz, Tyni believes consistency is essential for this year's team.
"We aren't there yet, but I know we will be. We have ten on the roster, but six that are consistently playing," he said.
If the players are any indication of this season's success, the men's golf team are well on their way to regionals.  Sophomore Tavit Garbarian, 20, currently has the top average on the team.  He almost didn't make the 2015 roster.
After leaving in the middle of the semester his freshman year in 2013 without properly withdrawing from his classes, Garbarian received all F's, which made coming back and being eligible for the team virtually impossible.
"I had to take all those classes again as retakes, and I had to get really good grades in all of them in order to be eligible," he said.
Last year, Garbarian took 18 units for the Fall semester and 9 units for Winter.  "I had my work cut out for me and I really wanted to come back, so I had no choice but to take all those classes."
The last week of winter session was the first league match of this season.  Garbarian passed his fall semester, but grades for winter had not been posted.  "I literally had to wait on the first hole to get a call from [Alex Leon] the Athletic Director to see if I was going to be eligible," he said.  "If it was five minutes later, I wouldn't have been able to play, but he called just in time for me to play that first tournament.  It was tough."
With the Vaq's midway through the season, Tyni is optimistic about this season's outcome.  "This team is in position to be great, they just need to believe it," he said.