Vaqueros Respond After Tough Loss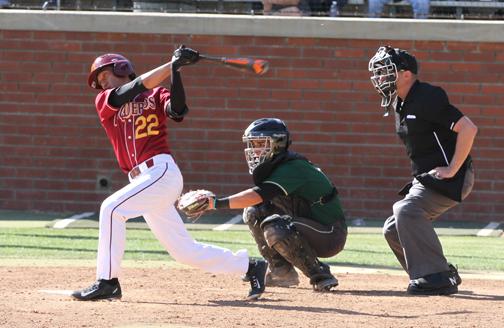 After a tough loss the day before to Citrus College, the Vaqs responded with a strong effort to beat LA Valley College Friday, March 13 at Stengal Field.
Citrus College visited Thursday and Coach Chris Cicuto knew not to take them lightly.
"It was a real dogfight and we hung in there until the very end," he said.
The game was close, as both teams  could not pull away from each other. It was not until the Vaqs allowed six runs in the seventh inning that the game slipped away. Final score 7-3.
But the loss the day before seemed to energize the Vaqs against LA Valley as they opened the game with a four-run first inning.
The early runs gave the Vaqs a lead they would never give up. Midway through the fourth inning, they were up 7-2.
"It was nice to bounce back. This was a very big win for us," Cicuto said.
The win also included one Vaquero stealing home base, something rarely done successfully at any level. Jared Akins caught the pitcher in a lull at the top of the ninth inning and beat the throw home, exciting the crowd.
Not to be outdone by the offense, the defense stepped up as well.
They were able to put pressure on LA Valley consistently because they had so many pitchers involved in the rotation. The pitching staff used five pitchers to keep everyone fresh.
The game also had some questionable calls. As the game progressed, tensions were high.
On one particular play, an LA Valley assistant coach didn't agree with the umpire's call and let him know about it. The assistant was immediately ejected as a result.
"You can't let your emotions get to you, and unfortunately that's what happened. I haven't seen too many of those in my years as a coach, but it happens," said Cicuto.
More than halfway through the season, the Vaqs have been able to turn it around. Although they saw their three game win streak end against Citrus, they won two of the three games this week and hope to improve even more.
The next home game is Thursday March 19 against West LA College at 2:30 p.m.