Chemistry and Talent Spur Coach's Optimism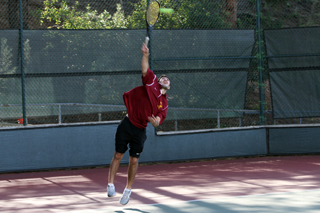 Vaqueros men's tennis opened the season with an 8-1 win at home over Cypress College on Tuesday.
With the return of eight players from last season including Dro Dermegerdichian and Hosep Orojian and some talented new players, coach Bob MacKay is excited about the new season.
"There's a lot of talent here," said MacKay. "They're ready to compete."
MacKay feels the new players are a good fit for the team. He said that watching these young men mature as players and students is part of the joy of coaching. Milosz Kubizna, left, is an international student from Poland and one of the standout new additions.
"Milosz is one of those guys that has to get an A in everything and he brings that attitude to the court," said MacKay.
For MacKay, the highlight of Tuesday's match was gettin to use all of his 11 players. He said for most matches he uses only 6-8 players.
At Cerritos on Thursday, the Vaqueros lost all nine matches. Before the match MacKay knew it would be a tough one.
"Cerritos is one of the best teams in the conference," said MacKay.
MacKay, in his 12th year as head coach and a 4-time Western State Conference Coach of the Year, remains enthusiastic. Win or lose, MacKay is in it for the love of the game.
The Vaqueros Men's Tennis team will host Saddleback College tomorrow at 2 p.m.