Raiders Steal Victory from Vaqueros
The Glendale Vaqueros hosted the Moorpark Raiders in what would be the Vaqueros first preseason game of the year. Although they lost by a final score of 68-59, several factors played into their defeat, including a team that was made up of fresh players with virtually no prior experience in college basketball.
Additionally, the Vaqueros only had seven players, despite practicing with nine players the day before the game. Steve Shares, who plays guard, and Garland LaFlora, who plays center, were benched due to ineligibility; however, coach Vigen Jilizian was confident in the players he had.
The Vaqueros started out strong in the first half, played a great defense and got a huge boost from freshman wing Christopher Haines, who scored the first six points for the Vaqueros. Haines finished the game and led the team with 17 points.
"Coach gave me the green light to just make it work," he said. "I was just doing whatever I could to help the team win."
Juwan Thomas also put in a lot of effort, playing the entire game and contributing 15 points and two assists.
"I was really trying to pick and choose my spots out there and, at the same time, be a leader on the court, be a point guard and make plays for my team," he said.
The Raiders started out slow in the first couple minutes of the first half, failing to make a field goal until the 13:52 mark. However, they picked up the pace and went into halftime with a 31-27 lead.
"Our energy wasn't great starting out in the half," said Raiders head coach Gerred Link. "We were kind of passive, but as the half went on, we kind of grew a little bit better together. Once you see the ball go through the basket, that just naturally energizes you."
At the 9:10 mark in the first half, Vaquero coach Brian Beauchemin, who is on leave for hip surgery,  made a surprise appearance to see how coach Jilizian and the team were doing in their first game.
Beauchemin said he liked what he saw from the team, down by only four points as they went into halftime.
"They're doing a good job," he said. "They have some first game jitters, so they're kind of breaking into the offense a little early. However, if they continue to do what they're doing, they'll be alright."
Jilizian was also pleased with the team's first half performance, considering the players' limited experience.
"We did a great job of talking and helping each other," he said.
In the second half, the Raiders began to run with the game and received some help from Glendale as they made some bad plays on defense. Moorpark led by Shaquille Moore, Jeremiah Grey and Joshua Brooks, dominated the second half.
"We started taking more care of the ball in the second half," said Grey.  "We made better decisions on offense, locked up on defense and made sure to get fast breaks and easy buckets."
The Vaqueros could not hit the barn door with a banjo as they missed shot after shot, helping the Raiders rise to victory.
"We had done great in the first half defensively," said Jilizian. "We played great defense in the second half as well — they just made shots. They're a pretty good three point shooting team."
However, even though the Vaqueros lost the game, there were a lot of strong points they could take away from the game.
The Vaqueros bench was full of energy thanks to Shares, who encouraged his teammates both on and off the court.
"Whether I'm out on the floor or sitting on the bench, I'm going to make my voice heard out there," he said.
Shares' positivity was infectious and the entire bench followed suit as they cheered on their teammates.
"It was a big factor," Thomas said. "We need that support from everybody. I fell that it that gives extra fuel to the fire for everybody to play hard. They have their brothers cheering for them on the sidelines, so that's a big deal."
Vaqueros start the preseason 0-1 and face Los Angeles Pierce College on Thursday. Coach Jilizian is trying to see things in a positive light.
"It's just one game," he said. "We got to build on this. It would be meaningless if we came out and had bad days of practice and didn't improve upon it. We just need to be patient and positive with these guys because they're young, and they're new."
About the Contributor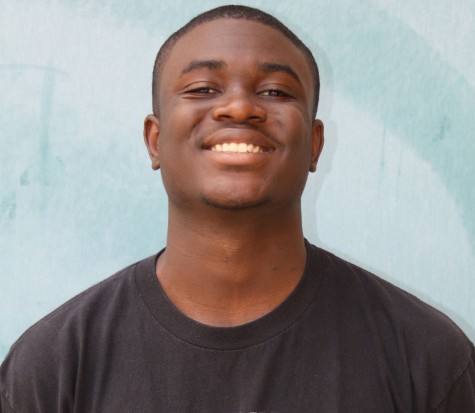 R.J. Saunders, Staff Writer
R.J. Saunders is a Communications Major at Glendale Community College. He is a graduate of Arcadia High School. R.J became interested in writing when he...