Hip Injury Sidelines Basketball Coach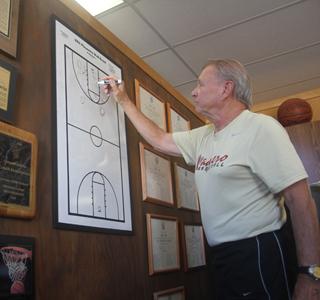 Head men's basketball coach Brian Beauchemin, who ranks third in the state with 592 victories, will be out of the 2014-15 season after guiding the Vaqueros to 22 wins and a trip to the second round of the Southern California Regionals last season.
Beauchemin's temporary leave is the result of an upcoming hip surgery. Although he will not be able to coach, he will still watch the games.
"I'll be around; however I won't be helping," he said. "It sucks, though, [because] I've been doing this for 48 years and this is the first time I'll be sidelined."
Assistant coach Vigen Jilizian, who has 20 years of experience and coached under Beauchemin last year, will replace him.
"Coach Vigen will be just fine," Beauchemin said. "Everyone has their own special touch when they coach and I'm sure he'll have his own."
Players on the team also agree that Jilizian will do a great job, including sophomore guard/forward Steve "Paco" Shares.
"Vigen has a good basketball mind," he said. "He's molded the offense to the team that he has. In addition, to be honest, I don't believe that a lot of teams will want to play us on defense if we learn how to run the offense the right way."
Even though there is a lot of optimism surrounding Jilizian, there will be some bumps in the road, including a young and inexperienced team, as there are no returning players this year.
"My goal for this season is to commit these guys to playing defense and to get the ball moving," said Jilizian. "We have to make sure that the ball doesn't die in one guy's hands."
Freshman guard Mitchell West is prepared for losses early on in the season.
"However, I believe that once we go later on into the season, we'll start putting it together," he said.
Even though the Vaqueros do not always practice with a full team, Jilizian said he sees the hunger in the players who do show up to the practices.
Although the team has no experience playing against powerhouses like Antelope Valley and Citrus College, Jilizian expects the team to gradually learn.
"We've made it clear how tough those teams are," said Jilizan. "However, it's kind of like a fighter getting into the ring with Mike Tyson. You don't know how hard he punches until you get in the ring with him. They'll find out quickly how tough those teams are."