Lady Vaqs Volleyball Drops One in Conference Play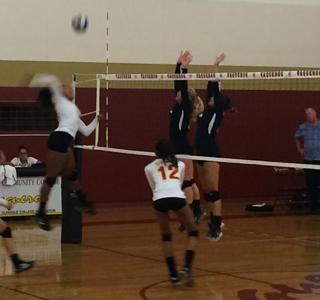 With tough losses in their two home games of the preseason, the Lady Vaqueros hoped to redeem themselves in their first home game of conference play against the Moorpark Raiders.
The Lady Vaqueros, who were 2-12 before their game against Moorpark, were continuing to struggle as they came into the game with a four-game losing streak, as they were defeated by Santa Barbara City College, Orange Coast College, Mt. San Jacinto, and Victor Valley.
Sara Kert, Assistant coach of the Lady Vaqueros, had some thoughts on the slow season.
"The problem is we haven't found a way to play collectively as a unit yet," said Kert. "Individually, as players, they're great. We are [also] trying to fix these problems before conference play. However, when we fix one problem we end up having another problem."
The Lady Raiders, who also started the season off slow, had a 2-7 record and a two-game losing streak going into the game, having previously lost to Pierce College and Golden West College. Hence, going into the game, both teams were evenly matched as far as wins and losses. However, the game told a whole different story.
The Lady Raiders were unstoppable, as they made timely blocks and a barrage of spikes from freshman Olivia Holeker.
"She has been one of our go-to players this season," said head
coach Steve Burkart.
"If she can play the way she did tonight, we will be okay this season," she said.
Although there were moments when it seemed the Vaqueros were on the verge of an excellent play, the ball would not stay inbound, giving all of the momentum to Moorpark and setting them off with an early lead. I"We were steadier in this game than we were in the past," said Burkart. "We knew that this was the last game that we were going to play before conference, so we wanted to come out strong."
"We are young and very immature," said Glendale's Libero April Leyva. "We don't know how to listen. If we can learn how to listen before conference play, we will be fine."
Kert also believes there is a mental factor to winning and losing. Although they were "pumped" going into the game, they quickly slowed down and lost their mojo.
One highlight of the game was the way Leyva and outside hitter Marisa Baltazar dove to the floor and keep the ball in play, opening the way for the Vaqueros to score.
The most impressive part of the game, however, came from middle blocker and outside hitter Dominique Hall when, during the third set, her phenomenal play pumped up the rest of the team. Sara Kert went as far to say that she left a hole in the court when she spiked the ball.
"We know that she's a dominant player," said Leyva. "However, I don't know if she knows that yet."
With the preseason coming to a close, the Lady Vaqueros have their eyes set on a conference play, and they will be playing four games in three weeks. They will play Antelope Valley College, West Los Angeles College, Citrus College and College of the Canyons before they have their "bye week" on October 17.
"We have nothing to lose," she said. "We shouldn't be afraid to make a mistake. We just need to go all out now."