Women's Volleyball Goes Off Speed in the Preseason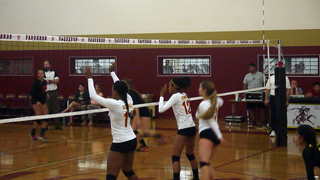 The Lady Vaqueros played their first preseason game in front of the home crowd last Wednesday as they went toe-to-toe with the Ventura College Pirates, losing in three sets.
The Lady Vaqs, a team that is still trying to find its identity before the official season, came into the game with a 1-5 record, after topping off a three-game losing streak against Cerritos on Sept. 12 and 13.
"I didn't like anything about tonight's game," said head coach Yvette Ybarra. "It might have been our first time playing this team, but it doesn't matter. You practice to be able to compete against teams like this. In addition, in our league, we're going to be playing some of the best teams in the state. We just didn't show up tonight."
The Pirates, who only won two games last year, were in complete control of the game from the first serve with strong performances from two of their four returning sophomores, Meghan Lambert and Makeda Pelle. The Vaqueros couldn't find a way to stop the overpowering play. The win by Ventura, gave them an early 5-1 record before losing to the number 16 team in the state, Fullerton College, on Friday.
Pirates head coach Brad Lyans appreciates the way that his six new freshmen have fit in so well with the game plan and have played so far in the preseason.
"The last two matches we have played very well," he said. "We beat Santa Monica as well as Cal Lutheran University who's a Division III program. The girls have been great in practice. In addition, we know what we're good at and we're continuing to work on our weaknesses before the season begins."
Pirates sophomore captain Meghan Lambert agreed with her coach's statement, and said she enjoyed how her team played.
"This game we played really strong as a unit," she said.
On the other side, even though Glendale didn't come out with a strong performance, freshman Dominique Hall still saw some good things happen in the game.
"Our serving was OK," said Hall. "I think we also did a good job of playing smart and waiting for our opportunities."
Along with the great serving and smart play, the Lady Vaqueros played hard by keeping the ball alive, making nice trick plays to confuse Ventura's defense. Hall and freshman middle blocker Nancy Nunez-Brooks contributed timely blocks.
The Lady Vaqueros made a valiant effort in the third game; however, sophomore libero Briana Martinez believes that this came a little too late in the game, as they lost 22-25.
"We tried to pick up each other and get in a zone," said Martinez.
"We just didn't connect very well in the game."
Hall believes that she knows what's wrong with the team so far, and what they need to do to turn it around.
"I feel that we're just a tad bit timid," she said. "We have to bring a little more intensity when we come into the game. Also we just have to do a better job at communicating. We have to realize that we're just playing more of a mental game with ourselves. It's all in our heads. I feel that once we start to work together as a team, we will be ready for season."