No Timeout for Coach Mena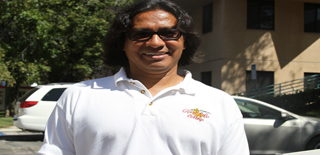 For many people, Glendale College is just a stepping-stone to a four-year school and a place to determine what students want to do for the rest of their lives. However, for women's soccer coach Jorge Mena, 50, the campus is his home.
Mena arrived at the college in 1986 as a student athlete and has been a part of the school ever since.
"I went to school here and basically never left," he said, chuckling in his chair.
Born and raised in Manaus, Brazil, Mena relocated to Glendale with his father in 1982. He graduated from Glendale High School four years later and enrolled in Glendale College, where he spent three years as a student and a soccer player. He then transferred to Cal State Los Angeles, majoring in Foreign Language and Latin American History. He also earned a master's degree in physical education and methodology from Brazil.
Mena worked at Hoover High School as a Spanish teacher and launched its first men's soccer team. However, he knew Glendale College was where he belonged.
He returned to the campus in 1994, rejoining the Vaqueros' soccer team as an assistant coach under Joe Agoston. Together, the duo launched the college's first women's soccer team in 1996.
"This is where I want to be," he said. "This school gave me my identity."
Mena believes attending the college helped him develop the emotional stability and confidence he needed to grow into
the person he is today.
Mena not only coaches for the women's soccer team but was also a fitness center lab technician and a physical education coach. As of this semester, however, he has been added as a full-time faculty member. He now also teaches Health 101.
"This is where I belong," said Mena. "I am not going anywhere."
Mena's son, Victor, followed his father's athletic lead. However, he currently plays football, rather than soccer, at Glendale High School.
"It makes me feel proud," said Mena. "It keeps him out of trouble. I never pressured him to play."
Mena aims to make this season a rebuilding one for his team. Because his team is made up mainly of freshman, with only two sophomores, he wants to work on their dynamics and prepare them to their fullest potential for their seasons as sophomores.
"For us, it's a big change," said Mena.  "It's a new year. I want to keep improving and hopefully we will have a good foundation for next year."
Although wins are always nice, Mena wants his athletes to develop as players and to grow into nice, solid young adults.
"I am not here to make professional soccer players," he said.  "I am here to be the little part of someone's life that makes them believe that it is possible."
Mena believes in making mistakes.  He is fully aware of imperfection and does not expect his players to be perfect athletes or students. His philosophy is that mistakes happen, but it is important to make sure those mistakes are addressed and improved upon.
Soccer player Brooke Forrester described Mena as a special coach, stating that she has never see a coach so dedicated to not only the game but to improving the lives of his players.
"He is not out here just to coach," said Forrester. "He is out here to give us chances that we may not have ever been able to experience and that itself is a blessing."
Sports information director Alex Leon has witnessed Mena's attitude on and off the field for many years.
"Coach Mena's success as a soccer coach at Glendale College has never been about wins and losses, but about opportunity and what his student-athletes do with that opportunity," he said.
Mena has not only been a part of lives of the soccer teams he coaches, but the students and other coaches in the athletic department as well.
Baseball pitcher Nate Rousey often sees Mena around campus when he goes to the weight room and said that the coach always makes sure to talk to the athletes, regardless of the sport they play.
"I have never seen Coach Mena not fired up about something," said Rousey. "He is always talking about how he is always having a good time."
Men's baseball head coach Chris Cicuto is particularly impressed with Mena's people skills.
"The relationships that he builds daily with students, employees and faculty on campus are remarkable," said Cicuto. "He's a people person who always has a smile on his face and I'm extremely proud to work with him daily."
Mena's dedication and love for the campus is evident to anybody who knows him. Because he considers the college his home, it never feels like he is at work.
"People will ask me, 'how long have you worked here?' and I respond with, 'I haven't worked a single day in my life," he said.