Vaqs End 10-Day Break with a W Exclusive Slideshow Coverage
After a 10-day break, the Vaqueros showed up to their Tuesday afternoon game ready to win.
"We want to play," said head coach Chris Cicuto, "we haven't played in ten days."
That is exactly what Glendale baseball did with a 5-2 win.
Vaquero starter Angel Rodriguez pitched six innings. The first five innings were a no hitter with one walk, and a total of five strikeouts against East Los Angeles College Huskies.
"I felt pretty good, I tried to give my team a chance to compete and it worked out for us," said Rodriguez

Slideshow Media Credit: Kendall Faulkner
In the first inning, the Vaqueros had an error off the second pitch and in the third inning, they gave up a walk on a 3-1 count. But, the Vaqueros recovered with three strikeouts under Rodriguez's belt at the top of the third inning.
The game remained scoreless until Nick Padilla hit an RBI allowing the Vaqs to lead 1-0 at the bottom of the third.
At the top of the fourth inning, East L.A. made an attempt to put numbers on the board. It seemed possible at first, with two runners on. Then, a balk by Rodriguez was called on the mound, allowing the runners to advance to second and third base with two outs on the board. The Huskies batter for the inning committed to a swing on a 2-2 count which led to an out and the score remained 1-0 with two men left on base.
A foul ball hit by Jay Sheeley, center fielder, caused a big bang in the bleachers at Stengel Field. East L.A. fans moved rapidly to avoid the ball coming in their direction.
After having the Huskies in scoring position, the Vaqs were ready to attack in the bottom of the fourth inning.
"We are ready to go, we are playing up to our potential," Sheeley said.
The Vaqs were ready to prove that.
Sheeley got things started with a leadoff double into left field. Mark Strazzeri stepped up to bat with a double and a RBI which led Sheeley charging in to home for a 2-0 score with no outs on the board. Raul Camas, who went 2-4 with one stolen base, continues the streak with a RBI single driving home Strazzeri for 3-0 score.
With a 3-0 lead and a runner on third base with two outs on the board, Eddie Munoz did not leave his teammate on base. He hit an RBI, giving the Glendale boys a 4-0 lead.
Rodriguez, still pitching five innings strong, got himself into a jam with no outs and the bases loaded at the top of the sixth.
"Whenever you go to battle with Angel Rodriguez, he is going to give you a great effort," said Cicuto.
With no outs and the bases loaded, David Garcia made a leaping catch to save at least two scoring runs.
After East L.A. put a mark on the board, Rodriguez kept very patient.
"My focus was on attacking the hitter and getting one out at a time," said Rodriguez.
The Vaq's were not going to give up any more runs and closed out the inning with a hopper up the middle with a key defensive stop, a 6-4-3 double play.
After a threatening inning, Vaqueros' designated hitter Dylan Trimarchi hits a double RBI making the score 5-1. East L.A. had their first pitching change after five innings. Glendale left one on man on base.
At the top of the 7th inning, freshman Nick Shur steps on to the mound and has one strikeout leaving the inning with a 5-1 lead for Glendale.
An attempt to steal second base ends the bottom of the seventh inning when Padilla collides into the second baseman.
Vaqs had another jam when bases were loaded with no outs in the top of the eighth inning. A wild pitch was thrown by Shur causing ELAC to score, 2-5. A pitch change was made, Keaton Leach steps on to the mound.
"Keaton Leach stepped up and got his job done," said Rodriguez.
Vaquero's take the win with a score of 5-2.
"Keaton got us out of it, he attacked the zone," said Cicuto.
With another win on their record, the Vaqueros are ready for the next game against College of the Canyons on March 4.
About the Contributor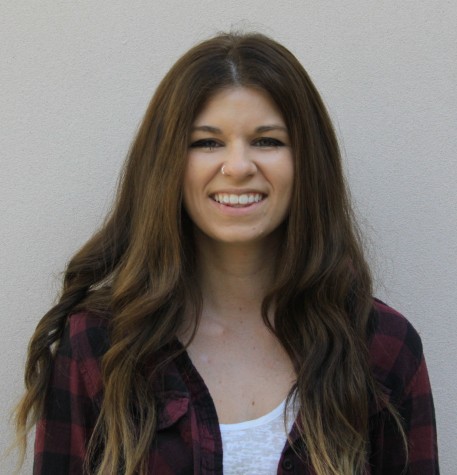 Kendall Faulkner, Staff Writer
Hi, my name is Kendall Faulkner. I am currently a sophomore. I am majoring in journalism, specially broadcast journalism with an emphasis on sports. I...