Cougars Trounced by Tenacious D – Exclusive Slideshow Coverage
The Vaqueros pummeled L.A. Southwest by 45 points, their biggest win this season. Glendale extended its winning streak to two games in a 54-9 rout of the Cougars and to 4-3 overall Saturday afternoon.
"When our offense can run and throw and dimensional, then we've got a chance for victory," said head coach John Rome.
The Vaqueros gained 570 yards of offense. The conference's second best scored 13 in the first and a massive 28 in the second for a combined 31 points at halftime.
Quarterback Sean Murphy netted nearly 280 yards and more than 50 percent of his passes. The Vaqs running game capped 300 yards, led by running back Marquise McGuire.
Slideshow Media Credit: Kathy Bakowicz and Raul Martinez
Special teams allowed key yards to put the Cougars in position to score their only points, something the defense would not allow.
"We played a great tenacious defense," Rome said.
GCC allowed only 180 yards and forced a fumble. Glendale ranks fifth among defensive statistics in the conference. Defense leader and linebacker Noche Nwofer had three sacks and four tackles, costing the Cougars 81 yards.
"It's just blind luck that I got hurt," said Nwofer.
Nwofer did receive some treatment on his sore right knee from the Vaq training staff. It would have been a key loss for the Vaquero defense if Nwofer went down. Nwofer ranks seventh in the conference among defensive players.
"We wanted to make sure we leave a legacy here," Nwofer said. "To do that it takes one game at a time, your best effort every play that's our motto.
Nwofer also said he would be ready for the next game and he "might even go and workout tonight [after the game]."
As a team, around 15 Vaqueros registered a tackle for a loss. At one point, Angel Landeros of the Cougars netted a punt of three total yards and stuck Glendale right in Cougar territory.
Toward the end of the second quarter, Vaquero wide receiver William Fennessy leaped up to grab the ball out of the air on a pass and was hit so hard his helmet flew off. You could hear the sound of the collision in the stands as the crowd gasped.
L.A. Southwest linebacker Raiji Gaines dislocated his left thumb in the fourth. Gaines was helped by Vaquero trainer Clair Condray. It was a highlight of the sportsmanship shown all afternoon. Some of the Vaqueros would even help the Cougar players up.
Right alongside the GCC bench both schools started to push and shove in the closing minutes. The dust settled and the clock eventually hit zero.
Coach Rome received the famous Gatorade bath seen so many times in football.
"I'm gonna get even with them," Rome said.
The Vaqs caged the L.A. Southwest Cougars to push them over the .500 mark.
Last week, Glendale edged by West L.A. last week 24-21. The Vaqs were up 17 to nothing and lost the lead in the third quarter. Glendale scored in the last minute to spoil any hopes of a West LA comeback.
Southwest looked to bounce back after a four game losing streak. The Cougars have registered a combined total of 11 points in two outings.
GCC will move the chains at home against L.A. Valley Saturday at 1 p.m.
About the Contributor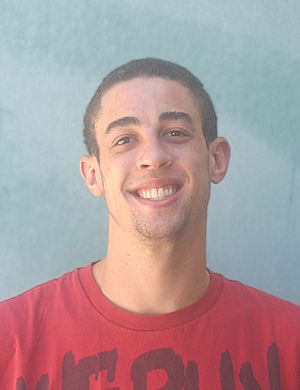 Jonathan Williams, Sports editor
My name is Jonathan Williams, I'm 22, I love sports, entertainment and technology. This is my first semester in the newsroom and I am ecstatic to be...