Athletic Trainers: Unsung Heroes of GCC Sports
Behind every great athlete there is a strong team, and behind every sports organization is a team, not as well known, that keeps those athletes in good health and condition.
For Vaquero athletes, that team is Jose Gomez and Claudia Alvarez, the GCC athletic trainers.
"Considering the lack of funding, resources and space we have; our athletic trainers are second to none," baseball head coach Chris Cicuto said.
"They work just as hard as our coaches and get no accolades for success, wins and championships — although they are a huge part of all our programs," Cicuto said. "Their selfless efforts allow for our athletes to stay or get healthy, which in turn allows for all of our programs a chance to win."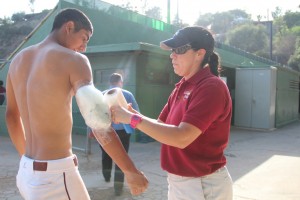 Gomez is entering his 24th year as a trainer at GCC. "We are highly qualified healthcare professionals that work with the physically active—from professional athletes to collegiate athletes, olympians, recreational athletes, youth athletes and now even the Special Olympics. So anybody that is physically active — we assist," Gomez said, describing the job of an athletic trainer.
Alvarez was a student athlete at GCC and played basketball and soccer before continuing her education at CSUN and then returning to GCC as a trainer 12 years ago.
"To be in our field, to work in an institution like where we're at, you have to love your job" Alvarez said. "Its a lot of time – a lot of work, but I enjoy it and Jose enjoys it."
Athletic trainers need to take a two-year accredited athletic training/kinesiology program, earn a bachelor's degree and then pass a state exam. "CSUN has a contract or curriculum with GCC and sends students from their programs to do their practical experience with us," Alvarez said.
Gomez also teaches an athletic training class, Health Training 110, the care and prevention of athletic injuries. "Students are required to do 10 hours of observation time in the facility so they can see what we do and they need to cover three games," Gomez said. "If they want to do what we do— the academics are strong and they need to apply those academics out on the field and at the facility."
Gomez gives his students practical experience. Students learn when to ice or not to ice, when to use ultrasound, when to use muscle stimulation, when to do manual stimulation and learn from watching the trainers deal with actual injuries.
Alvarez and Gomez have been working together for 12 years, but their relationship goes back even farther. "Claudia was a former student of mine so I did train her, gave her the practical education. She got the textbook education at CSUN, but she had the building blocks and philosophies that I developed — the Vaquero system," said Gomez.
Cicuto met Alvarez in 1996 when they were both student athletes at GCC. "I have been working with Claudia and Jose for 12 years now and I have known Jose since he started working at Glendale over 20 years ago because my dad was the head football coach," said Cicuto.
The trainers also deal with the mental side of the games. "The relationships they build rehabbing our players are so special because often times they take an athlete that is down and out and get them physically and mentally prepared to compete at a high level. The mental side often times is the hardest part," said Cicuto.
At the recent Vaquero's baseball games at Stengel field, Alvarez could be overheard yelling encouragement to the players. "Alright Whitmer" and "You got this Angel." Her enthusiasm for the players and the game makes her a great cheerleader. "Its all part of the job," said Alvarez.
"We are lucky to have such professionals at GCC," said Cicuto. "They not only excel in their jobs of getting players back on the field, but they make the work environment enjoyable because they are such nice, selfless and amazing people," he said.
Gomez and Alvarez take care of hundreds of athletes in 14 different sports at GCC, sometimes travelling with the teams. It is a job made of long hours and heavy responsibility, but for GCC's dedicated trainers, it is a labor of love.