Team Stymied by Injury of Star Quarterback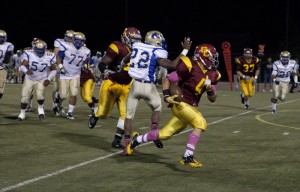 The Vaqueros remained winless as they fell 35-13 to West Los Angeles College on Saturday at Glendale. Pre-game injuries forced GCC to convert Anthony Carter from wideout to quarterback.
"I would say it was a fun experience but it is never fun to lose," said Carter.
Carter completed nine passes for 77-yards and threw one interception.
West LA put eight players in the box and forced GCC to throw the ball.
Carter, under constant pressure, threw the ball and connected with Timothy Broughton for a 52-yard strike.
"The coaches did their job, I felt comfortable but I wish I would have played better," said Carter.
Joseph Wiggan scored on a 19-yard run in the middle of the second quarter, giving the Vaqueros the lead. Wiggan ran for 145 yards and a touchdown. He has rushed for more than 100 yards in each of his last three games.
Seconds after scoring a touchdown, GCC wasn't even done celebrating when West LA ran back the kickoff for a touchdown and retook the lead.
Head coach John Rome was livid after the play.
"It was the turning-point of the game," said Rome. "Giving up a touchdown, immediately after scoring, knocked the wind out of our football team."
The Vaqueros didn't score in the second half, allowing 28 unanswered points. West LA stacked the line with eight players, and on occasion 10.
GCC was forced to become one-dimensional due to injuries, and was forced to keep running the ball.
Ronnie Marquez, an offensive lineman, felt that the offensive line did a great job protecting and opening up holes for the running backs. They only gave up one sack and had no fumbles.
"Inside the trenches we did a great job, our running game is always solid. We had to depend too much on the run. It made us less effective," said Marquez.
Timothy Broughton had 102 total yards and averaged four yards per carry. He knew he was in for a long night, but he wasn't discouraged and welcomed the challenge.
"They [West LA] knew we had a new quarterback," said Broughton. "They were stacking the box. We played a hell of a game. There is no crying; you just have to go out there and play hard."
The Vaqueros' next game is away against Santa Barbara.
Injured quarterback Kevin Hunter has been cleared to play by his doctors.
With three games left in the season, the Vaqueros are looking to finish strong.
"With Hunter returning, we will be able to go back to being a multiple dimensional offense," said Rome. "Defenses won't be able to stack the line and we can spread the ball around."