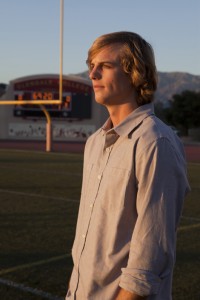 Having both a father and an uncle who were talented quarterbacks could be too much pressure for the average player, but for Kevin Hunter, it made him stronger and motivated him to make his own mark.
"By the second grade, I knew I wanted to play as a quarterback. Having my dad and uncle around helped me understand football in a different manner," said Hunter. "My dad coached the Burbank High School team and my uncle was the starting quarterback at GCC."
The turning point in Hunter's career came when he played a high school game at the Rose Bowl. A childhood dream became a passion when he threw for two touchdowns and ran for another.
Hunter's football IQ and leadership abilities can be seen on and off the field. He can be seen talking to his skilled players on the sideline or coaching up the second string quarterback. He congratulates his offensive line after every series.
Story continues below advertisement
Quarterback Coach Kevin Mills knows there is no denying the presence that Hunter brings to a football team. He has been coaching Hunter for one year and has been impressed by his growth.
"In one reason he has grown, the way the team believes in him shows his leadership abilities," said Mills.
One of Hunter's football mentors was Tim Loock, who helped Hunter develop the mental stability he is well-known for on the football field.
Loock was an All-League wide receiver for Burbank High who later became a volunteer football coach. As a coach, Loock showed Hunter the way of controlling emotions and staying calm.
"I owe a lot of my attitude to Tim Loock. He was always there for me and was always calming me down when I would lose my cool," said Hunter.
GCC head coach John Rome thinks highly of Hunter. Rome knew that Hunter had intangibles that cannot be learned, you can only be born with them.
"He is a fantastic young man. He has an excellent grade point average. With that type of intelligence it is easy to understand why he has great composure," said Rome.
Hunter was having an exceptional season until his injury, which occurred when his pass was intercepted.
The defensive player was running back to score a touchdown. Hunter went from quarterback to linebacker and cracked the defensive player. The tackle caused the player to flip in the air, and also left Hunter a two-inch laceration in his liver and a hip contusion.
Hunter has missed numerous games since his injury. He will make his return on Oct. 29 against Santa Barbara.
His biggest love is football and he dreams of one day being a quarterback in the NFL. Being injured has been tough on Hunter but he has made the best of it by showing up every week and traveling with the team and becoming an extension to the head coach.
"In life and in football. No matter what happens, you have to keep everything on a level field. Always keep your cool and stay composed," said Hunter.