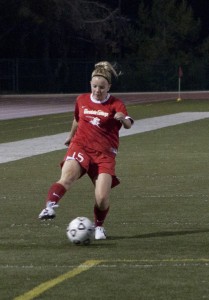 Ending an 11-game losing streak is bittersweet, especially when you give up the tying goal seconds before the final whistle.
The women's soccer team tied for the first time this season 2-2 on a foggy Friday night at Sartoris Field against the Citrus College Fighting Owls.
"It's been the story of our season, so close and yet so far away," said Glendale coach Jorge Mena.
The Vaqs started the game on the defensive, allowing Citrus to control possession and get multiple shots on goal early.
Story continues below advertisement
However, Glendale started to gain momentum towards the end of the half, and with five minutes left, freshman Emely Bustos scored her first goal of the season, putting the Vaqs up one to nothing at halftime.
"Play hard; challenge the ball," said Mena addressing his players. "You can NOT let them dictate how we play."
During halftime, referee Adam Savage advised each team to take its time and walk when retrieving the ball for throw-ins, after witnessing several players slip on the slick track. He let the teams know he would be "adding more time," to the game in adjustment with the safety precautions.
In the second half, the teams traded possessions and goal attempts.
In the 33rd minute, the Vaqs scored for a second time off a throw-in to freshman Cecilia Martinez, taking a 2-0 lead.
Glendale continued to play aggressively and control the ball, making for an exciting game.
With 18 minutes to go, the Owls led a successful attack, finding the back of the net, however the goal was waived due to a penalty prior to the shot.
Citrus kept its poise, and with five minutes remaining, was able to score its first goal.
Tensions were high as the Vaqs tried desperately to hold on to their 2-1 lead.
The lengthy stoppage time proved to be costly for the home team. Citrus never gave up, and in the final seconds, scored a heartbreaking goal, ending the game in a 2-2 tie.
"It's one of those games in which we were hoping to kill time and get out of there," said Mena. "We're paying our dues right now, you can tell they're trying, they work hard."