CROSS COUNTRY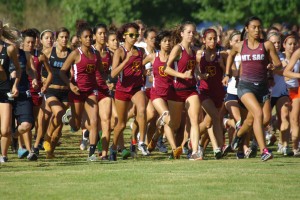 GCC's cross country team has a history of successful years and records for both men and women and last season was no exception.
The women's teams have won the California State Title from 2006 to 2009 and last year won second in the Western State Conference, sixth in Southern California and fifth in state. In addition, they have won 12 WSC titles in the last 21 years.
Story continues below advertisement
The men's team won third in 2009's state meet and in Southern California, and won the WSC title – their 16th one in 25 years.
This year's team, however, may upstage those previous feats.
Returning this season on the women's team are Cecilia Nicolas, Noemi Martinez and team captain Karen Rosas. Rosas ran track last season and won state championships in the 5,000 and 10,000 meter runs and is the favorite to win the state individual title.
Newcomers include: Geena Person, who made it to state in the 1600 in high school; Charlene Quintanilla, who was the city champion in the 3200 track last year; and Grace Zamundo, one of the top runners in Santa Clarita.
The men's team has Jesus Gutierrez, Alexander Nelson and Nicholas Marquez returning this season. One of the top high school runners in Division 1, Mizrael Mendez joins the team this season.
"On paper, this is probably the best team ever that I've coached," said coach Eddie Lopez in a Glendale News-Press article.
One reason that Lopez is hopeful for its team is their attitude and maturity. According to Lopez, internal rivalries was one of the issues causing disunity among team members.
For example, previous teams would race each other while in practice, resulting in sub-par performances during the actual competitions.
But this year, things took a turn for the better.
"We're very deep and they really work well together," said Lopez. "They're getting along and they're very easy to coach."
And according to Lopez, less conflict means less time spent enforcing rules and more time training.
"We (coaches) don't have to repeat ourselves very much," said Lopez. "I don't waste time telling the team what to do and they don't waste time listening to the same thing over and over."
This team's discipline and talent has Lopez optimistic this season.
"We have more talent now, and the team chemistry is a lot better," said Lopez. "If you get along better, you train better."
"We've been blessed with a great work ethic," said Mena. "They give you 100 percent – it makes it easy for us to work."
MEN'S SOCCER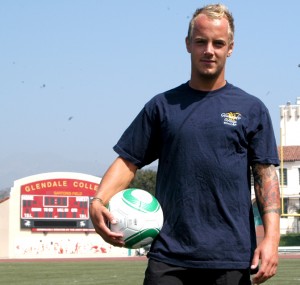 Last season, the GCC men's soccer team had one international player, Yuto Hisamura, from Japan.
This time, there are nine.
Joe Agoston's team is looking a lot more global this year.
"All of a sudden, we have international students (in the team)," said Agoston. "They just came to GCC out of the blue."
While Hisamura is returning for another season, the other six international students are all freshmen: Zaid Jamal A. Abu Abd and Hassan M. Dawodieh, from Indonesia; Pablo F. Alvarez and Mattheus Campos, from Brazil; Mikael E. Anderson, Anton J. Forsberg, and Victor E. Olsson from Sweden; and Christian Lopez, from Spain.
Also returning for the season are Jakob Boghossian and Rafael Reyes.
According to Agoston, the sudden influx of international students has boosted team performance.
"(The foreign students) have a higher understanding of the game than the regular students," said Agoston. "They've been a big help in terms of quality."
However, having a multicultural team doesn't guarantee victory, as seen at the home loss 3-1 against San Bernandino College on Sept. 2.
"We've given up too many goals. Obviously our defense needs to be much tighter," said Agoston.
Agoston expects the season to be a good one.
"I hope we'll be competitive for the season conference," said Agoston. "Hopefully we gel and come together as a team."
FOOTBALL
Football coach John Rome's team has had a rough start to the season, losing first to Pasadena City College 49-28 and to Golden West 34-7.
"Our offensive line was a bright spot (in Pasadena's game)," said Rome. "Defensively, we made a lot of mistakes."
"We struggled last week against Golden West. (They're) a good football team and we made quite a few offensive mistakes, things that we had not done in the first game," said Rome. "We regressed a little bit offensively."
But to Rome, these losses are a method to improve for future games. And according to Rome, each game brings a new improvement to the team.
"I thought from a positive standpoint our defense got a little better, our defense played better and better. We got more confidence. Something that they had not exhibited game one," said Rome. "We're a work in progress."
Key players for both games included sophomore Paul Lindsey, freshmen Anthony Carter and Helio Guerra.
"Our tight end Paul Lindsey did a very good job on improvement on his blocking, and our other tight end Anthony Carter did a very good job," said Rome. "They caught the ball well, they blocked well."
However, Rome knows that there's room for improvement despite the players' growth.
"We're by far ways not a complete product. Both our offensive line and our defensive line have to take significant steps to improve," said Rome. "Our receivers need to grow."
One improvement with this year's batch is their dedication, said Rome.
"Attendance rates for practice during the summer class was 100 percent," said Rome. " They're a very dedicated group."
That dedication will help turn the tides on the season, said Rome.
"I keep seeing flashes of things that can make us good – it's just going to take a while. That's just the nature of the game," said Rome. "I don't know when that breakthrough will happen and when that breakthrough happens I don't know if it'll stay or how long it will last. We're young and we have to get better and we have to take one step at a time."
WOMEN'S SOCCER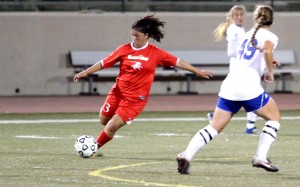 Women's soccer coach Jorge Mena is dealing with a whole new experience this year.
The Lady Vaqs have 19 players this year — 15 of which are freshmen.
"It's a very young team, which is good and bad," said Mena. "It's harder because of that transition from high school, but with that I'll say that I've been blessed with the group. They're willing to work."
According to Mena, some new players come from Santee, North Hollywood, Los Angeles, and other far-off high schools, and some of them have to take multiple buses to campus.
"We have practice at 6:30 a.m., so we have some of the girls taking the bus really early," said Mena. "You have girls taking the bus at 5 a.m. or 4:30 a.m., just to make it to practice."
"We've been blessed with a great work ethic," said Mena. "They give you 100 percent, they show up to practice, so it makes it easy for us to work."
Mena is optimistic about the new team, despite having a rough start to the season losing to L.A. Compton College 3-1 on Sept. 2 and to L.A. Harbor College 5-0 on Sept. 6.
"We got a wake-up call in the first half (of Compton's game) ," said Mena. "It's a very strong team, but that transition from high school to college takes some time. It may take five games, it may take a year – it's a process."
The Lady Vaqs won their game against West Los Angeles, 3-0.
"We got caught up and started getting disorganized, but bottom line, we took care of business," said Mena.
According to Mena, the important thing is that this year's team learns to play at the college level.
"I just want everyone to have that college experience, one game after the other," said Mena. "We're trying to carry this year, one game at a time."
WOMEN'S VOLLEYBALL
Women's volleyball coach Yvette Ybarra is no stranger to difficult seasons. Competing in a league with College of the Canyons, Citrus, and Bakersfield, GCC often has a difficult time playing volleyball competitively.
"(Those are) three of the top teams in our conference," said Ybarra.
However, this season's team is determined to perform better than before.
"I definitely think our record will be better than before," said Ybarra. "I'd like us to at least break even during the off-season."
Returning this season are Yesenia Ortega, Racquel Venezuela and Sara Kert. Newcomers include Laila Souktani and Angela Gainard.
"Souktani runs offense. She has great hands, beautiful hands, runs offense really well and is a great leader," said Ybarra. "Gainard is a good hitter and adds a lot to the front row."
The team's strength lies in defense, said Ybarra.
"I believe defense can win games. We're great on defense," said Ybarra. "Offense? We're working on it."
This season, Ybarra is focusing on improving the core essentials.
"We're making sure that fundamentals, theory basics and defense are done every day," said Ybarra.
Injuries and illness interrupted the team's momentum during the past weeks — an issue that affected their performance at Victor Valley, according to Ybarra. However, the losses at Victor Valley College and Orange Coast College haven't phased the team.
"Even though things get difficult, they see it as a way to learn the game," said Ybarra. "They really work hard as a unit. They don't get discouraged when they fall behind, they find a way to come back into the game."
A key difference in this season's team is their motivation, said Ybarra.
"This team is very positive," said Ybarra. "Their perseverance is a lot different from last season."
In the end it will be the girls who make the team work, said Ybarra.
"As a coach I think I have a dynamic group of young ladies," said Ybarra. "We have a great makeup of girls who have potential."
WOMEN'S GOLF
Last year, the women's golf team's ace in the hole was Tammy Panich, who was the Western State Conference Player of the Year and the California Individual State Champion and who won GCC's first state golf title in campus history.
This year's team has large shoes to fill, and the team's past games have been a good place to start.
The Lady Vaqs won first at the Western State Conference at Olivia Links by 315 on Aug. 29 — the first conference match won since the golf program was restarted in 2008. GCC finished second at Buena Ventura Golf Course's North South Tournament to Palomar College, 607 to 620.
Freshman Vicanda Ma shot 76 on Aug. 29, tying with Palomar's Natasha Wiebe for low medalist. Freshman Pattraporn Sillawanna shot 78, sophomore Hannah Lee 79, freshman Thanawan Sriratchaya 82 and freshman Malia Nesbit 92.
GCC finished second to Palomar again Friday and Saturday at the College of the Desert Tournament 607 to 600. Sillawanna ranked third among individual scores with a score of 147. Sillawanna made the all-tournament team along with Lee, who scored 148 ranking fourth among individuals. Sriratchaya shot 149, Ma 155.
The Lady Vaqs finished second for a third time, this time to College of the Canyons, on Monday's Western State Conference at Santa Barbara Golf Course 325 to 321. Sillawanna shot 76, Lee 81, and both Ma and sophomore Diana Hernandez shot 84.
Women's golf coach Greg Osbourne seemed content with the progress this season's team had made so far.
"If you predicted six months ago that we would be where we are at this point of the season, I'd be happy," said Osbourne in a Glendale News-Press article. "Our main goal is to get to the regional, and I think we have the talent to win conference."